| | |
| --- | --- |
| | "I can't hear you! It's too dark in here!" |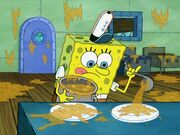 Wow! Soup is a type of soup that only appeared in the episode "Greasy Buffoons." It was sold at the Krusty Krab, before being discontinued.
Appearance
Wow! Soup is pure grease that is served on a paper plate. Of course, when the customers tried it, they liked it but then became sick of the unhealthiness, resulting in SpongeBob calling the health inspector.
Trivia
The soup also defies the laws of physics because the grease should technically float to the surface of the ocean.
| | |
| --- | --- |
| | "We paid ten dollars for this?" |