Wormy (Butterfly form)
Comments

0
7,507pages
on ESB
Wormy


General information
Aliases:
Sandy Cheeks
Physical appearance
Gender:
Male
Connections
Enemies:
Spongebob and Patrick
First appearance:
"Wormy"
Latest appearance:
"Wormy"
List of characters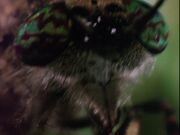 Wormy was a caterpillar that appeared in the episode "Wormy", but he grew up to be a butterfly. The Bikini Bottomites believed it to be a monster. It was captured by Sandy, who knew that it was Wormy.
Trivia
In the SpongeBob Leapfrog game, a story shows SpongeBob and Patrick attacked by Wormy and Sandy told SpongeBob and Patrick that the butterfly is just Wormy.
The close up of the 'butterfly' was actually a closeup of a buzzing horsefly.
| | |
| --- | --- |
| | "We paid ten dollars for this?" |