Bob and Barbara
Talk

0
6,594pages
on ESB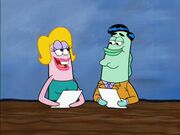 Bob and Barbara
are two anchorfish that work for the Bikini Bottom News. They both made their debut in the episode 
The Krusty Sponge
, where they worked alongside Gene Scallop, on the day the Krusty Krab had a critic's review.
Squidward Tentacles
calls Barbara Tacky. Bob is a tall green fish with shiny black hair and an orange suit. He is called Phil Preflsemester, in
Pineapple Fever
. Barbara is a mauve fish with blonde hair, wearing a purple dress. She has black hair in
Model Sponge
and talks very differently. Bob appears in
SpongeHenge
, when he is blew away by the wind. Bob appears in
WhoBob WhatPants?
when he is in a helicopter, giving an overview of Bikini Bottom. Bob tries to get a review of Squidward's class in
Professor Squidward
, thinking he was
Squilliam Fancyson
. Bob appears again in
Back to the Past
. They both may appear in
The Clash of Triton
, since it is revealed in commercials that the
city
is in a crisis due to
SpongeBob
.
Quotes
"And there were no survivors"—Barbara
"You're welcome, Gene"—Bob
"And it doesn't look like it will stop anytime sooon!" (Gets blown away by wind)--Bob
"It makes for a much better scoop!"—Bob
"We're here with the new face of television: SpongeBob SquarePants!"—Barbara
"Thank you, Bob! Thank you Barbara"—Both