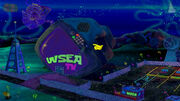 WSEA TV is a place featured in Rock Bottom, a part of the video game Employee of the Month.
Looks
It is a big TV screen that displays the weather throughout Bikini Bottom and Rock Bottom.
Appearance
It made its appearance in Employee of the Month, and you had to talk to Gary Gulper and get past Tiffany the Receptionist to pass to Gary. It showed on the monitor that Marlin's Cave was the only place in Rock Bottom getting no rain and perfect weather.
Workers
Shows
The News (slogan is Tomorrow's News... Today!)
Touched By An Angelfish
The Wonderful World Of Cans