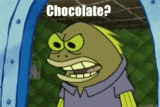 Hello. I'm an Admin on this site. (See the yellow box just below). (Also see the updates box) If you need help, see a problem, or a user is doing something wrong, please message me. The problem will be fixed within 24 hours. If it is urgent, and I cannot reach you, you may contact my good friend admins,
120d
,
Spongebob456
,
AMK152
,
AW10
,
ZeoSpark
, or
Loopa23
.
Need some Help? Read below what I can, and cannot help you with :D
Yes
Assistance
Yes
Users gone bad
Yes
Help
Yes
Discussion help
Yes
Picture help
Yes
Any edits you need assistance with
NO
Unblocking
NO
Changing your block
NO
Vandalism
NO!
Giving you special permissions to do wrong
UPDATES TO WIKI (In order by date)
SPRING CONTEST!!!
Ends March 19. 2 Leading submissions.
Re-name wiki
Ends March 25. Encylopedia SpongeBobia is winning
New Episode!
Kenny the Cat will air March 29 @ 19:45 MDT
KIDS CHOICE AWARDS
March 29, 2014

SpongeBob is nominated for the favorite cartoon, again!

Admin Policy
Is open indefinitely
SPONGEBOB YOU'RE FIRED DVD
Coming to shelves April 29
Template Proposal
Has closed
| | |
| --- | --- |
| | This is a prank page. Don't get mad, it's just for fun! |
This user has the Pushin' Tables Badge (contributed to the wiki every day for 5 days) on the SpongeBob SquarePants Wiki. (

verify

)
This user has the Free Balloon Day Badge (contributed to the wiki every day for 14 days) on the SpongeBob SquarePants Wiki. (

verify

)
This user has the Grandma Tentacles Badge (contributed to the wiki every day for 30 days) on the SpongeBob SquarePants Wiki. (

verify

)
This user has the ONE WEEK LATER Badge (contributed to the wiki every day for 60 days) on the SpongeBob SquarePants Wiki. (

verify

)
Templates to come:
Deletion Award
Edition Award
Addicted (100 days)

Wikiilife (200 days)
Wikihero (365 days)
Friends/Aquantinces
Manirroo (Retired, and Fired)
Wars I've fought in
SBYF! transcript war - In this war, 120d and others were on his side to help him keep the way he copied and pasted the transcript from SBM. While he did break the "law", he did this before the "law" was passed. Winner-None We agreed to make the copied version our own, and  keep the page under a lock, so we'd never worry about this again.
Edit War 1 - In this war, 120d, and JCM hashed it out on the SBYF! transcript page. They kept making reverted edits. Until the end, 120d's rites were removed, and the page was altered to a standard you read above. Winner-JCM He made the page altered, and revoked 120d's rites. Later he rebestowed 120d his rites.
Spoiler War - In this war, myself and others were trying to keep spoilers on this wiki. We fought each day. Others wanted to ban all spoilers forever! I knew this couldn't fly. I was a spoiler myself. We had to fight to keep spoilers on this site. I provided good insight. It was crumbly. Winner-Myself, and the Spoilers Spoilers are aloud, but a warning template is made (Template:Spoilers) so we can jack with things, but must put this warning on pages. 
Seacactus Rites War - In this war, Seacactus made a mistake, and lost his rites. Everyone supported this. Loving my good friend, I fought alongside him. Winner-Everyone, but me Seacactus lost his rites as an Admin, and everyone hate him now and he doesn't like anyone anymore.
120d Rites War -In this war, 120d lost his rites after the SBYF! transcript war. I supported full rite revoktion 'til April 13, 2014. Winner-120d 120d regained his rites after his edits were reviewed by B-Crat staff. I now understand, and support this action.
My Wall, Mini Spoiler War - In this war, which is ongoing, but not really a war, 120d told me to not put picture spoilers on the site. I did, and he threatened me. But, we came up with ideas, that are still in the works. Winner-Everyone Wins A concensus is reached, and spoilers like pictures are aloud.
Yeti Krabs synopsis War - In this war, I made a great synopsis of the episode Yeti Krabs, before it aired. 120d deleted this, because of a spoiler issue. Arguments were made, and the synopsis changed to TBA. Winner-120d I let him keep the synopsis the way it is. I've since re-uploaded it.
Major war on AMK152's wall - In this war, 120d was still trying to get spoilers blocked. Huge issues arose, to where violence broke out, and bias opinions hashed out. 120d, was regularly mad, and I was trying to defend spoilers. 120d was soon outnumbered with thoughts, because we allowed spoilers, and everyone is welcome to edit (if they are a user), to make sure everything checks out. i made several proposals to 120d, none of which I got a reaction on. Winner-Me, AMK152, and Spoilers We made a re-decision to make sure spoilers were aloud to stay on the wiki, and the spoiler template issued to all future pages. I decided to continue patrol on those pages, so admins who didn't want to get spoiled, would not.
My Userpage edit war - In this war, Seacactus kept editing this section you read now. I kept reverting his edits. He thought rites should say rights. Winner-Me While I was wrong, I kept it the way I wanted it.
Extreme War on my wall - In this war, originally, 120d, again, was trying to stop spoilers. Then the matters turned legal, as he thought my uploading of 40 pictures to the Kenny the Cat Gallery wasn't lawful, because it was a pirated source. It wasn't. Winner-Me 120d actually gave up. The spoilers win again. And no laws were broken.
Favorite SpongeBob Episodes
My Absolute Most Favorite SpongeBob SquarePants episode is: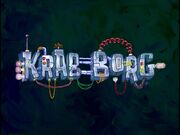 Then there are these other rocking episodes.
Episodes I Dislike
Favorite Seasons ( In that order)
Season 2
Season 4
Season 3
Season 1
Season 7
Season 9
Season 8
Season 5
Season 6 (half like/half dislike)
My favorite Pictures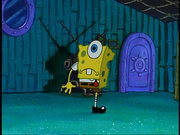 (Non animated, go to top for those)
GoALS: StrikeThrough = Completed
500 Edits
1000 Edits
Become Admin
Figure out unannounced episode "Krabs' army"
Mr Krabs Secret Talk
Earn Bumper Cars  
5 days
14 days
30 days
60 days
100 days
200 days
365 days
Bezonkers photos :|
This is the Yeti Krabs synopsis I made, but it got deleted. I may re-upload it to Yeti Krabs.
Squidward is sleeping at the Krusty Krab while reading Boredom Weekly. Mr. Krabs wakes him up. They go through a discussion about Squidward's working habits at the Krusty Krab. Squidward believes he has no problem with work, and doesn't care about what Mr. Krabs has to say. Then, SpongeBob comes out of the kitchen, working by sweeping, cleaning the windows. He then stretches his body very far from the windows to the kitchen to clean the dishes. Whilst doing this, he continues sweeping with his lower body. Mr. Krabs is pleased with SpongeBob, and continues to harp on Squidward's work habits, while SpongeBob uses his back to clean the Krusty Krab walls and ceiling. Mr. Krabs tries to have Squidward clean an air duct, but SpongeBob beats him to it, while Squidward continues to sit back, lazily. Mr. Krabs then wants him to clean the gum off the underside of the tables. Squidward, again, refuses, and continues to read Boredom Weekly. SpongeBob, once again, beats Squidward, and creates a huge gum ball, and asks if he can give it to Patrick. Mr. Krabs then wants Squidward to clean a pair of his shoes. Squidward says no, while SpongeBob cleans them. Mr. Krabs becomes angry, but sees SpongeBob outside, soaking up water, and washing a boat, making it shiny, and looking brand new. Mr. Krabs then tells the story about Yeti Krabs, and how it eats lazy employees, like Squidward. SpongeBob becomes alarmed, when he hears the story. Upon telling the story, Mr. Krabs dumps his laundry at Squidward's post, and leaves. Squidward leans back relaxing, while SpongeBob panics. Squidward thinks no Yeti Krab exists, and SpongeBob tries to believe him. But to be safe, SpongeBob transforms himself into washing machine, and cleans Mr. Krabs' laundry on delicates setting. By pulling his nose, and dumping soap flakes in his head, Mr. Krabs' laundry is soon being cleaned.
The time cards "Just then..." and "By sheer coincidence..." appear one after another. The camera zooms close to a mountain where a Yeti Krab appears. He smells the air with anger. He walks to Bikini Bottom, and smashes the city's sign that welcomes visitors into the city. He growls fircely, and becomes very mad. He sucks on a mailbox, but spits it out in rage. He growls and yells at a sunglass shop, but walks away, not destroying it. He becomes hungry, and his stomach yells it needs food. Yeti Krabs hollars in agreement. Suddenly, an aroma appears, and Yeti smells it. Upon smelling the Krusty Krab, he runs excitedly to it. SpongeBob is washing tables, when he sees Yeti Krabs, seething saliva out of his mouth. He runs to Squidward's boat. Yeti walks up to the counter, but Squidward thinks it's Mr. Krabs in a suit. SpongeBob doesn't think this. The Yeti screams at SpongeBob and Squidward, flattening their faces. Squidward, still thinking it's Mr. Krabs, sits back amused. SpongeBob becomes more scared of Yeti, and begins to set up places for him to sit. He leans against a table, to find it is very wobbly. Panicing, SpongeBob places many wedges under it, to stable it, and make it Yeti Krabs height. Yeti is a little mad, so SpongeBob goes and looks at the mustard. It's nearly empty, so he puts more mustard in the container. He puts so much in, it overflows. He slides under Yeti Krabs, and runs into the kitchen. He rearanges all the spices on the rack. Yeti Krabs hates this, and blows SpongeBob really hard. SpongeBob bounces off all the walls in the kitchen until he lands unharmed. He is glad that is over with, but looks at the grease trap door. He opens the grease trap, and sucks the grease out using his entire body, and puts it in a barrel. The Yeti Krab sucks on the grease, while SpongeBob shoots extra grease everywhere. He makes Yeti Krabs really mad.
Squidward is reading the newspaper, and greasy liquid begins to drip on him. SpongeBob is cleaning the ceiling, and Squidward tells Yeti Krabs, he's annoying, and this has gone too far. Yeti Krabs yells into Squidward's face. Suddenly, Squidward's newspaper burns away. He becomes enraged, and it shows SpongeBob is welding Mr. Krabs' office door. SpongeBob apologizes, and Squidward tells the "truth" about Yeti Krabs. SpongeBob still doesn't believe him, and tells Yeti Krabs he is going to continue working. SpongeBob carries toilet paper into the restroom. Then, he carries paint to paint the Krusty Krab. Next, he creates paper crane napkins. Then, he knits straws, and puts them into a cup. After this, he prepares soap to wash the floor of the kitchen, and uses a saudering tool to smoothin his grill. He then uses his body to clean under the metal sheeting that had a thin crack between it and the wall. Upon doing this, he vacuums all the tables, and even vacuums Squidward's other newspaper away. Squidward yells to SpongeBob, but SpongeBob is stuck in a trance of where he has to work, or Yeti Krabs will eat him. SpongeBob then vacuums his hat up, and runs. He slows down, and jumps into Squidward's boat. Yeti Krabs slashes Squidward's newspaper, and SpongeBob jumps up, begging Yeti to not eat him. Yeti Krabs begins to chase SpongeBob around.
Squidward, who is fed up with this game, goes out to the dumpster, pulls on a bucket, stomps his feet into two bags, puts dry cement on his arms, and legs, and puts a mop piece on his head. Squidward runs into the dining room, and yells to Yeti Krabs. Yeti Krabs becomes very mad, and yells so loud, he blows Squidward backwards, until he hits the wall. SpongeBob, is very scared, for both Yeti Krabs, and Squidward. His brain blows all the air out of it, and he falls backward, unconsious. Squidward is then seen pulling on Yeti Krabs hair on his head, while Mr. Krabs returns, and says he's back. Squidward is still yanking on Yeti Krabs. Then he sees the real Mr. Krabs, and panics, realizing Yeti Krabs is a real thing. Yeti Krabs grabs Squidward, Mr. Krabs, and SpongeBob, and puts them on the grill, and starts to cook them. Mr. Krabs is mad at Squidward, but SpongeBob regains consiousness, and realizes what Yeti Krabs needs. He opens a can of emergency Krabby Patties he keeps in his shirt. He cooks them with his feet, and serves them to Yeti Krabs. Yeti Krabs is thrilled, and gives Mr. Krabs money for the patties, to Mr. Krabs' delight. The Yeti Krab walks out of the kitchen, after freeing Mr. Krabs, Squidward, and SpongeBob. Mr. Krabs is mad at Squidward for making the Yeti Krab mad, and SpongeBob then grabs a broom and begins to sweep, and does as Mr. Krabs tells him to do.