==About Me==
I love books, movies, and cartoons, which I Am sort of old for. I am a writer, and a drawer. Ahem, and I am female...
==What I dislike

One Direction
Johnny Test
Breadwinners

==Loves
Harry Potter! I know...I'm...a nerd
anything Tim Burton
cats, and animals
books
The Grim Adventures of Billy and Mandy
==Favorite characters
Potty the Parrot

Patchy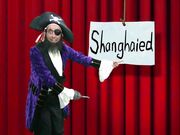 My Favorite Episodes
Add links to your favorite episodes (from the list of episodes on the wiki) here!
My reaction to trolls leaving this wiki: "Stop. Don't. Come back."