| | |
| --- | --- |
| 500+ | This user has made over 500+ edits at Encyclopedia SpongeBobia. |
About me
I am a huge Spongebob fan why I am a HUGE Spongebob fan? I watch Spongebob 10 times a day i'm always on the couch watching Spongebob (like Patrick) I watch Spongebob my favourite Characters are Patrick, Patar, and Squidward I design computers mainly Windows 7.
Favorites

Summer Job, SpongeBob's Last Stand and all episodes from seasons 1, 3 and 6.
I like all of them but if there's Mermaid Man and Barnacle Boy I hate them.
Patrick Because he is very dum and he is very funny. Squidward Because in Keep Bikini Bottom Beautful he hates Spongebob a little less the he finds out under his house is garbage. Scooter Just his laugh.
Patrick: "Hi, SpongeBoob. SPONGEBOOB!? WHO'S SPONGEBOOB!? Ha ha ha ha! Okay! Okay! Sorry people."
SpongeBob: Gary, now that my horrific incident of terror is over how 'bout some breakfast!,(Starts singing) The most important meal of the day, Serving it up Gary's way pop!(starts pouring snail food in the bowl) Enjoy buddy. Hmm? You know I've been feeding this to Gary for years, And I don't even know what it taste like. (Starts putting his tongue in the left over snail food in the can)Bleh-bleh-bleh! (It reaches to the Snail-Po Company)
Sadie:" What was that?"
Peterson:" I don't know."
SpongeBob: "La-la-la-la-la-la-la-la-la-la-la-la la la,La-la-la-la-la-la-la-la-la-la-la-la,La-la-la-la..."
SpongeBob: "POURQUOI?!?!?!?!?!?!?!?!?!?!?!?!?!?!?!?!?!?!?!?!?!?!?!?!?!"
Waitress: "Wait, when exactly did you lose your identity?"
Customer:" Yeah, and who's Patrick?"
Cook: Why did you eat Snail-Po?"
Patrick: (Giggles) "I got the giggles" (giggling again).
SpongeBob:" Oh Yeah,and these guys threw me in a dumpster."
SpongeBob: Have you forgotten what we're looking for, knee-deep in yesterdays top forty songs?!
Made up
Klamer
Klamer
Gender:
Male
Occupation:
Engineer
Friends:
Spongebob

Patrick Scooter (Best Friend forever)

Larry the lobster Squidward (When playing Bassoon)

Eniemies:
Plankton

Karen Squiward (When playing guitar)

Coluor
(young) Pale green cyan

(older) getting green
Personality
Klamer has 3 Personalities. When Klamer is playing the Bassoon Squidward Tentacles just joins in with his clarinet, and they just become friends. But when his not playing the Bassoon he acts all cool and hates him. When Klamer plays the Guitar, SpongeBob and Patrickare his best friend. But when he is acting all cool he's just friends with Spongebob and Patrick. When he is acting all cool, Scooter and Larry thinks it's Awesome like surfing.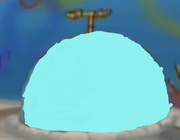 Residence
119 Couch Street. He lives in a Cyan rock like Patrick. He has advanced Technology, he has an arrow on top of his rock. He lives 480 yrds away from the Krusty Krab.
Experiences
He can eat a krabby patty in one bite.
He can eat Planktons chum.
He can float in the water.
Near Death
He can survive in air for 24 hours.
He can sleep on the seeling.
Habbitat
Klamer has to be in Darkness when he is sleeping other wise he will dry out very easly when he is a sleep but he can go anywhere when he is awake and he floats.
Family
Rolyer
Royler
Coulor
Green
Gender
Male
Royler is a happy cheerful character that likes squiward every day he goes to squiwards house.
Squiwards and Roylers Relation ship
Squidward's Side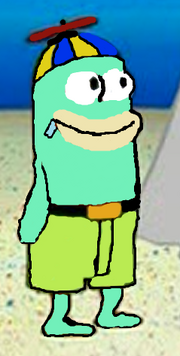 Squidward loves Royler like he is his child he saves him from a lot of danders but encoureges to hate Spongebob and Patrick.
Roylers side
Royler likes Squidward but not loves him he is his Best friend he invites him under Klamers Rock and they sip Tea.
Polls
Character on my page looks the best?
Which character is the best looking?
Favourite SpongeBob Moments
1. Episode: Band Geeks: Patrick: Is mayonaise an intsrument?
Squidward: No, mayonaise is not an instrument!
Patrick: Raised his hand.
Squidward: House radish is no an instrument ether.
2. Episode: Keep Bikini Bottom Beautiful:
SpongeBob: Can I help you now?
Squidward: Alright! Fine! You can help me.
SpongeBob: Yaaaaaaaaaaaaaaaaaaaay! Thank you Squidward.
Squidward: Well.. you gonna help me!?
SpongeBob: First, close you're eyeees!
Squidward: Why?
SpongeBob: C'mon!
Squidward: Fine! (closes his eyes) Now what?
SpongeBob: No peeking.
Squidward: Oh brother.
SpongeBob: Ok! You can open your eyes now!
Squidward: Oh this is so stuuuuuu..(sees that the trash has vanished)..pid. It' gone! Where did you put the trash?
SpongeBob: (chuckles) I put it in....
Squidward: Know what? Don't care! The trash is gone. Thanks SpongeBob I hate you a little less now.
SpongeBob: Squidward that...that's a beautiful thing to say!
(Squidward and SpongeBob walk to their houses)
Squidward: Well I don't know how you did it but thank you for getting rid of all that trash. They'll have that statue of me built in no time! (he enters his house which is made out of the trash where is junk kettle is steaming.He pours out nails and bolts into his junk cup.He drinks it and has some junk toast with junk butter.He then has a junky bath and starts to sleep in his junk bed.He then sniffs,realizes all the junk,then screams while running out of the house and gasps) My house!
Officer: Is this yours?
Squidward: Yes.
(officer gives Squidward his fourth ticket. The ticket falls down and the police gives him his fifth ticket)
Officer: tch-tch-tch, some people never learn (walks away)
(Squidward's veins crunch up to form 'I AM ANGRY')
SpongeBob: I am angry? Squidward why are you angry?
Squidward: SpongeBob. what's this?
SpongeBob: Your garbage.
Squidward: Where's my house?
SpongeBob: On top of your garbage. (camera zooms out and shows Squidward's house) The dump was closed. (Squidward sighs) So I bought it here.
3. Episode: Summer Job:
SpongeBob: Ah! Here comes another customer! Let's see if you can apply what you learned!
Mrs. Puff: Welcome to the Krusty Krab sir. May I take your order?
SpongeBob: YES!
Customer: 1 Krabby Patty please?
Mrs. Puff: $1 Please. Thank you.
SpongeBob: Spongebob pops up from the register
SpongeBob: Good job Mrs. Puff! Now all thats left is to submit the order to the cook.
Mrs. Puff: ONE KRABBY PATTY!!
SpongeBob: Oh Mrs. Puff!
Mrs. Puff: What?
SpongeBob: It must of slipped your mind that you need to submit the order in writing as well. Its the only way to ensure maximum clearity.
Mrs. Puff: FINE!! HERE'S YOUR WRITTEN FORM!!
SpongeBob: 1 Krabby Patty.
Mrs.Puff: What now??
SpongeBob: I can't begin cooking until the bell is rung.
Mrs. Puff smashes the bell.