About me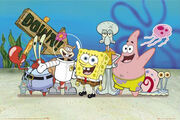 Hello my name is Mary J. I am a huge fan of Spongebob since 1999, and I love reading all the articles here. I like all of the characters including the Bikini Bottom citizens. Do you have any questions for me? Ask me here. I would love to become a administrator on Spongebob Wiki, but i will make 200 edits, and contribute to the wiki everyday!
What i think about the show
I think Spongebob Squarepants is a great show. Tom Kenny is great playing the character, Spongebob Squarepants, the cast is so great and i love every character.
My favorite main characters
My favorite seasons
My favorite episodes