Darylaine Kransen

awwww.....how nice of you to visit my profile!
My favourite cartoon
SB!
My Favourite color
Red
Favourite Character
Spongebob!
Greatest dreams
To taste a Krabby Patty!imagewidth = 180
Hi!My Name is Darylaine Kransen.I love this wikia.I do edits all the time.If you want to tell me anything about it,you can do it at the talk section.If you want to contact me in another way,my email is:tutubaby5@hotmail.com.I just started secundary school,so i might be inactive for a little time.
Best CoupleEdit
Spandy!They are so cute together!I think they are married because the priest didnt know it was a play;)
On this wikiEdit
Please be nice on this wiki!This wiki is for great and awesome p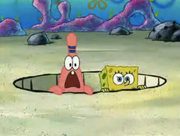 eolple who support SB!If you are nice on this wiki,youre a great user!









My InterestsEdit
i <3 ice cream!

i <3 kitties!
i <3 doggies!
1 <3 SPONGEBOB!
i <3 OFFERING SOMEONE SOMETHING!
Favourite CharactersEdit
Spongebob Squarepants.Hes funny,adorable,cute and has an cute laugh.
Patrick Star.Hes super cute and i like his color.I like his dumbness cause its kinda adorable to me:)
Squidward Tentacles.To me Squidy is handsome:)I like how hes always teasing SB and SB actually believes it!HAHAHAHA!
Sandy Squirrel.Sandy's science is super awesome!Agreed?
I dont wanna write about my despises cause i dont think i really have one.Oh,and for Mr.Krabs and Plankton,they are sometimes my favourites and sometimes not :s
Favourite EpisodesEdit
Like i said,being nice is sooo great.And im mean too to mean users:/
Even Cat can prove it!
Cat:Darylaine 12 seems really mean,but dont worry,she is.
<div class="floatleft">
</div>
Thanks Again for visiting my profile!That makes me so happpyyy!
See ya on this wikia!Edit