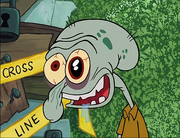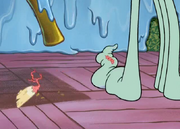 About Me!
If You Forgot The Episode Information, Call Me! Ive Seen Every Episode Of Sponge Except The Paper. If You Like Miley Cyrus, I WILL NEVER HELP YOU!(How I See Miley----------------------------------------->
Titles I Know= Sqiudward Has No Happiest Memorie-Are You Happy Now?
Squidwards Toenail Gets Ripped Off His Foot-House Fancy
Stupid Faces-Face Freeze!
Arctic Race-Frozen Face Off
Sweet Victory-Band Geeks
Patricks Pet Wins A Race The Great Snail Race
Patrick Makes Spicy Bubbles-Bubble Trouble
The inner machinations of my mind are an enigma-The Secret Box
Tell Me If Im Right When You Read The Pages (Im Right)
My Contributions
My Favorite Pages
Add links to your favorite pages on the wiki here!
Favorite Page #2
Favorite Page #3
My Opinion On Spongebob Episodes
The Good Episodes
Dunces and Dragons
Some Bad Ones
Wormy (Not Completey)
More Good Ones!