"Toy Store of Doom" is a SpongeBob SquarePants episode from season six. In this episode, SpongeBob and Patrick are locked in a toy store after closing.
Characters
Synopsis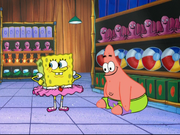 SpongeBob and Patrick are very bored and have nothing to do. SpongeBob walks over to a toy chest and starts rummaging through it, but does not find anything that interests him or Patrick. SpongeBob finds a Mermaid-Man toy, but it is unfortunately chewed up by Patrick. It is then revealed that they were in Squidward's house, and he kicks them out.
They then begin walking outside, trying to find something to do. While they are walking, they notice some billboards that begin to introduce something. They follow the signs to a newly opened Toy Barrel. At first, it is not there, which makes the two of them cry. It appears soon afterward, courtesy of a crane. The construction worker throws Patrick inside, and SpongeBob throws himself. They spend the entire day singing songs and playing with the toys, all the while annoying an employee. Later, it comes to their disappointment that the Toy Barrel will be closing for the night. Not wanting to leave the store, Patrick formulates a plan to hide in the dollhouses. When the police check the toy store during the night, Patrick and SpongeBob go undiscovered.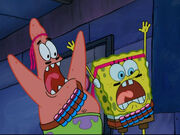 After revealing themselves, the two realize they have the whole Toy store to themselves. They become jolly until the lights suddenly turn off, which scares the duo. They begin searching for a source of light until Patrick remembers he has a flashlight trapped inside his head. The light begins to shine from Patrick's eyes until it quickly burns out. The two of them then become scared as they imagine the toys to be hideous creatures. They then see a shadowy figure walking towards them which frightens them further. SpongeBob decides they need to fight back against this supposed threat. They enter the ladies restroom and dress up like soldiers, preparing to fight the shadow.  This does them no good however, as they are still too scared to fight. As the figure approaches, they realize It was just a little wind-up robot Patrick had been playing with earlier. Patrick decides to wind up the toy again and as it starts walking the two get frightened and run out of the store. Upon exiting the Toy Barrel, they tell the children waiting outside not to go in due to the horrors that await them inside. They are then made aware that the Toy Store is just opening up for the morning. The episode ends with Patrick saying "Hey! It's open! I love toys!," and rushing back inside.
I can turn into a skyscraper!

This section is too short. You can help the Encyclopedia SpongeBobia by

expanding

it.
Production
Music
( ‣ ) Associated production music

( • ) Original music

( ◦ ) SpongeBob music

 ‣ Horror House of Wax Retro 2 - Nicolas Carr, Ron Wasserman [title card]
 ‣ Drowsy Reef - Jeremy Wakefield, Sage Guyton [opening]
 ‣ Life on the Wild Side - Sam Spence [Mermaid Man and Barnacle Boy action figures]
 ‣ Steel Licks (d) - Jeremy Wakefield [Patrick chewed them up]
 ‣ Tympup (a) - Sammy Burdson, John Charles Fiddy [Squidward notices SpongeBob and Patrick are in his house]
 ‣ Steel Sting (b) - Jeremy Wakefield [Squidward kicks them out]
 ‣ Solo Steel - Jeremy Wakefield [SpongeBob and Patrick bored]
 ‣ Banners Victorious - Ronald Hanmer [helicopter drops billboard]
 ‣ Parting of the Clouds - Nicolas Carr ["Oooh... boy!"]
 ‣ Gala Premiere - Laurie Johnson [more billboards]
 ‣ Vibe Sting - Nicolas Carr [SpongeBob and Patrick wonder where the toy store is]
 ‣ Fates [#62] - Gregor Narholz [SpongeBob and Patrick crying]
 ‣ Hawaiian Cocktail - Richard Myhill ["What are you crying about?"]
 ‣ Tension Bits - Nicolas Carr, Sage Guyton, Jeremy Wakefield [construction worker throws Patrick into the toy store]
 ‣ World of Fantasy - Gregor Narholz [inside the store]
 ‣ Lap Steel - Nicolas Carr [several song-filled hours later...]
 ‣ Disneyland - Sam Fonteyn [SpongeBob in a tutu]
 ‣ Careless March - Marc Andre Dall'Anese [store closes]
 ‣ Cartoon Sting 1 - Patrick doesn't want to leave
 ‣ Bubble Poppin' Boys - Nicoals Carr, Barry Anthony [SpongeBob and Patrick hiding in a dollhouse]
 ‣ Cream Pie - Sage Guyton, Jeremy Wakefield ["Oh, this is so awesome!"]
 ‣ Murder in Mind [#45] - Ronald Hanmer [lights turned off]
 ‣ ? [flashlight in Patrick's brain]
 ‣ Horror House of Wax Retro 2 - Nicolas Carr, Ron Wasserman [SpongeBob, Patrick afraid of the toys]
 ‣ Slide Whistle Song - Nicolas Carr, Sage Guyton, Jeremy Wakefield [SpongeBob, Patrick skating]
 ‣ Unknown Track 53 - Ron Wasserman [they hide in a gumball machine]
 ‣ The Assignment - Gregor Narholz [SpongeBob and Patrick gearing up]
 ‣ House of Horror - William Farran ["Nothing can stop it!"]
 ‣ Vibe Sting - Nicolas Carr [they stop crying]
 ‣ Steel Sting - Jeremy Wakefield [they sigh]
 ‣ Footsteps of Horror - William Farran ["Patrick, don't!"]
 ‣ Disneyland - Sam Fonteyn [toy store opens]
 ‣ Unknown Track 53 - Ron Wasserman [SpongeBob, Patrick run out]
 ‣ Slide Whistle Song - Nicolas Carr, Sage Guyton, Jeremy Wakefield [ending]

Reception
As of March 17, 2017, The Internet Movie Database (IMDB) gives this episode a rating of 6.8/10 based on 122 ratings by users.[1] TV.com users give this episode a rating of 8.2/10 based on 106 votes.[2]
"Toy Store of Doom" was listed as number three on Tom Kenny's top-20 episodes of SpongeBob SquarePants on iTunes. His description reads:
"I love when hilarity and disturbing creepiness mingle. This one is like an episode of Night Gallery starring SpongeBob and Patrick, directed by Rob Zombie!"
Release
Trivia
This was the second episode to premiere during Nickelodeon's "The Bob Squad."
Two games based on this episode can be played at SpongeBob.com. They are Toy Store Trial and Toy Barrel Peril, based on a memory game and attacking the toys respectively.
The fact that SpongeBob and Patrick act like kids in this episode is similar to The SpongeBob SquarePants Movie.
This originally meant to be the last season 6 episode. However, it was pushed back due to the special "The Clash of Triton."
This is the third time that What Zit Tooya appears (and the second time as a cameo). He appeared as an actual character in "Good Ol' Whatshisname" (his second appearance).
When SpongeBob says hi to Squidward as he is walking out of the bathroom, there is a golf iron to his right, which is not really a toy but sport equipment. Plus, it has holes in it.
Near the beginning, SpongeBob takes a doll out that says "Mama." This is the same doll that Plankton packed in a suitcase in "Walking Small," where it said "Mama" as well.
It is unknown how SpongeBob and Patrick got into Squidward's house at the beginning of the episode.
At the end of the episode, Steve said that they just opened for business but the store opened the day before. It is possible the store was open for soft opening.
As SpongeBob and Patrick are about to exit, the title card music from "Krabby Land" plays.
This was the first time SpongeBob and Patrick were stuck in a place. The second will be in "Truth or Square."
This episode premiered four years after The SpongeBob SquarePants Movie was released in Russia, Singapore, and the Czech Republic.
In the Croatian dub, the episode name is "Ukleta Trgovina Igračaka" or "Haunted Toy Store."
This episode takes place either around or after "Mermaid Man vs. SpongeBob" because the Mermaid Man and Barnacle Boy Action Figures are the one used in Krabby Meal in that episode.
Cultural references
The plot is very similar to the Rugrats episode "Toy Palace." In "Toy Palace," Tommy and Chuckie got locked in a toy store like SpongeBob and Patrick did.
This episode may be a reference to the Nicktoons game Nicktoons: Attack of the Toybots.
The part where it shows Patrick wrapping the headband around his head is a parody of Rambo.
The title is a parody of Indiana Jones and the Temple of Doom.
The title could also be a parody of Little Shop of Horrors and Toy Story.
In one scene, in the background there are shelves lined with pyramids with eyes, a reference to the All-Seeing Eye, often considered to be a Masonic/Illuminati symbol. Whether this is intended or not is unknown.
This episode aired on St. Patrick's Day/Vacation Day of 2009.
Errors
References
Ad blocker interference detected!
Wikia is a free-to-use site that makes money from advertising. We have a modified experience for viewers using ad blockers

Wikia is not accessible if you've made further modifications. Remove the custom ad blocker rule(s) and the page will load as expected.