"
"We do not lose laughter during times of crisis, on the contrary! Bad mood is the best reason to spread some fun and optimism. We deliberately chose this date for the biggest TV event in the history of MTV Networks and we hope that the audience picks up our message: Think Happy!"
"
 

— Patrick Alders, General Manager Nickelodeon North Europe, for Think Happy Day
Think Happy - The Year of the Sponge (known as Happy Yellow in Japan) was a year-long campaign that was held in countries including the United Kingdom, Ireland, Germany, Netherlands, Sweden, Norway, Finland, Scandinavia and Belgium. It featured a marathon called Think Happy Day, that was broadcasted in 22 networks in 9 countries, like Nickelodeon, Nicktoons, Comedy Central, MTV, VIVA, and TMF[1], with the idea coming from Nickelodeon North Europe. It featured new season 6 episodes (including the WhoBob WhatPants and SpongeBob SquarePants and The Big Wave specials), online games and like The Ultimate SpongeBob SpongeBash, it was celebrating 10 years since the premiere of SpongeBob SquarePants.
The Think Happy Day event was held again in North Europe, on May 22, 2011 and May 27, 2012 in the same country.
UK events
The Sponge Who Could Fly musical
SpongeBob SuperFan
Bollywood Bob
Think Happy Day
On November 28, countries across North Europe like the Netherlands, would have young viewers decide what to see during the 'SpongeBob Top 100', from the Nickelodeon website. Also on Think Happy Day, all day statements of celebrities and kids, such as cast of House of Anubis, would pass by, in which were told what makes them happy.[1] Viewers could submit messages, or photos and videos, that tell their personal moments of happiness, so they can have a chance to appear as one of them.
Viacom pay-TV stations in Germany were not affected by this special and showed their normal program that day.
Schedules
Germany
Nickelodeon
VIVA
The music channel VIVA showed over 50 SpongeBob episodes with themes about love, friendship and music until 8:00 pm, from 06:00 am. From 20:00 there was a "Planet VIVA Special: Underwater Hits" and from 22:00 a "Planet VIVA Special: Think Happy Day". From 0:00 to 6:00, VIVA again broadcasted six hours of SpongeBob episodes.
MTV
MTV started the day at 6:00 am with the documentary "Square Roots: The Story of SpongeBob SquarePants." Afterwards, the SpongeBob episodes were broadcast. Focus at MTV was "beach and sea". Then the best "Underwater Hits" were shown in a clip section.
I can turn into a skyscraper!

This section is too short. You can help the Encyclopedia SpongeBobia by

expanding

it.
Captain's Secrets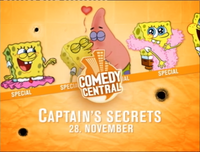 On Comedy Central Germany, there was a marathon called "
Captain's Secrets
", broadcasted as part of the
Think Happy Day
, on November 28, on 8:15 PM
[2]
. Selected episodes from the marathon would have to do with rumours surrounding SpongeBob SquarePants and other main characters. The event was presented by
Painty the Pirate
.
[1]
2011 Think Happy Day event: Day of Laughter[3]
Nickelodeon launched the Think Happy Day on May 22nd at 6am. Until 20:15, an episode marathon of the "funniest" SpongeBob episodes would airon the screen.
With this special program, Nickelodeon celebrates the day of laughter and invites all fans of the yellow sponge to a great SpongeBob party with lots of great winnings!
In the countdown to Think Happy Day Online, there would be hands-on activities for fans.
SpongeBob fans would help shape the program on Think Happy Day this year, adding a laugh of laughter to the Day of Laughter. With the help of the SpongeBob app for Think Happy Day sponge fans could cut their own favorite scenes together and create an individual minute of laughter. The "funniest minutes" of laughter would air on May 22.
They could also invite friends to the SpongeBob party on Facebook and win one of many SpongeBob party packages. From SpongeBob chips to SpongeBob streamers to SpongeBob showers, there's everything you need for a fun SpongeBob party.
Episodes[4]
Errors
At 6:00 pm, while the episode planned to, aired, the title card that was shown, was the "Bubblestand" one.
At 7:30 pm, the title card of "To Save a Squirrel" was visible, but was changed directly afterwards on advertisements.
2012 Think Happy Day event: Be Spongy
A special "SpongeBob SquarePants" programming marathon with 55 episodes between 6.00am and 8.15pm, plus a special showing of "The SpongeBob SquarePants Movie" at 2.00pm were broadcasted in Nickelodeon Germany, as part of the third annual "Think Happy Day", that would be held on May 27, 2012. The slogan was "Be Spongy!".
Between May 27 and July 14, 2012, Nickelodeon Germany would be asking European Nickelodeon viewers and fans of the show to log in to the official Nickelodeon Germany website, Nick.de, to add their photographs of themselves pulling "SpongeBob SquarePants" facial expressions, where each photograph would be added to a giant photo mosaic, featuring several thousand fans' photos. The finished "SpongeBob SquarePants" mosaic was then unveiled and displayed on a special street banner around Europe during Summer 2012.
Episodes
Trivia
The Think Happy Day event is similar to the German "SpongeBob 24-Hour Marathon."
The Milano Design Studio and Nickelodeon Italy created an international ident for the campaign, directed and produced by Davide Tappero Merlo for Bonsaininja, and Eleonora Cremascoli. Sound design is done by Carlos Zarattini, and Jinglebell Communication, and art direction by Fabio Ardemagni.[5]
Idents and promos for the campaign in the UK were written, edited and produced by Phil Ball. Graphics were made by Blue Zoo, and audio by The Jungle Group, companies who would later work on bumpers and promos for the SpongeBob's Top 100 marathon event. Voiced by Peter Dickson.

Other promos for events centered around the event were made by Derek Best, such as the SpongeBob SuperFan one, with the "WhoBob WhatPants?" one winning an UK silver Promax award.
In Germany, only 10.000 plush toys of SpongeBob, were produced in gold, as part of the whole campaign, by Simba.
The marathon started one year after a marathon with premiere episodes including "The Slumber Party," "Grooming Gary," "Porous Pockets," "Krusty Krushers," "The Card," "Dear Vikings," and "Ditchin'" happened.
The 2011 marathon aired on Ginnifer Goodwin's 33rd birthday.
The 2012 marathon aired five years after the death of Charles Nelson Reilly, and two years after Comic Crazy: Take 2 was released, and "Gullible Pants" and "Overbooked" premiered in Poland.
Gallery
Videos
References
External links