The Seascape Capers is a SpongeBob SquarePants DVD that contains 1 episode from Season 1, 6 episodes from Season 2 and 3 episodes from Season 3.
Cover
The front cover shows SpongeBob and Patrick sitting with Squidward, who's not amused. The re-release has SpongeBob and Patrick having fun, while Squidward is tired of this.
Episodes
Bonus Features
Storyboards
Trivia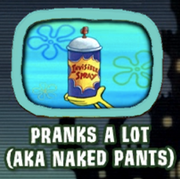 The DVD also contains short trailers for various Nickelodeon shows.
On the Episode Selection screen, it mention that another name for the episode "Pranks a Lot" is (A.K.A. Naked Pants). However, none of TV guides use this name.
This DVD was re-released on September 25, 2012 along with 5 other DVDs (Friend or Foe, Altantis SquarePantis, SpongeBob vs. the Big One, Pest of the West) as part of the Super Square Collection.
Alternate covers