The Land of Perpetual Excitement
Talk

0
5,649pages on
this wiki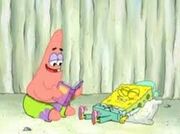 The Land of Perpetual Excitement was a book Patrick read to SpongeBob in the episode InSPONGEiac.
Appearance
The book, The Land of Perpetual Excitement, is a purple book, with a very crazy looking fish on the cover, written in large blue font.
History
SpongeBob had been trying to go to sleep, Patrick pulled the book off of his dusty book shelf, and began reading the book to SpongeBob. The book starts slow, and helps SpongeBob starts to fall asleep. Patrick continues reading, and the book becomes faster paced, until SpongeBob is fully awake again. SpongeBob wondered how this could not help him sleep, and Patrick read the title to SpongeBob, The Land of Perpetual Excitement. 
Trivia
Patrick was fully able to read to SpongeBob. Maybe he got this skill from the book How To Read.