The Game of Life (SpongeBob Edition)
Comments

0
6,976pages
on ESB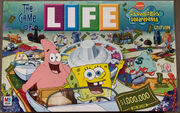 The Game of Life (SpongeBob Edition)
is a board game that is created by Hasbro. It can be played on the PC version as well. The characters are
SpongeBob
,
Patrick
,
Squidward
and
Mr. Krabs
.
In the 'modified' PC version, The characters are SpongeBob, Patrick, Sandy, and Squidward.
List of Cards and Items
Expense card 
3 bridges
4 Characters 
Paper money 
Life cards
Homes 
Spinner
How to Win
You need to go all the way to the Shady Shoals Rest Home.
Instructions
When you get a card, it tells how much paper money you get.
If it's a purple swirl you can move some extra spaces, and pineapple is Home card, and life is obviously Life card, also a $ sign is in it means, Expense card, it will say Pay Day meaning Career card, and Change Jobs again means Career cards.