This is the page about
The Complete Second Season
. If you were looking for the article about
the original
, then see
The Complete 2nd Season
.
The Complete Second Season is the re-release of a SpongeBob SquarePants DVD box set The Complete 2nd Season. It was released in 2012 and contains all 39 episodes from season 2.
Episodes
Disc 1
Disc 2
Disc 3
Bonus features
Audio commentaries
Storyboards
Specials
Other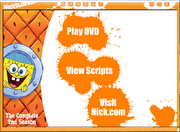 Trivia
In the episode "Christmas Who?" on disc 1, the part where Patchy says "It's about time you came back. Now I can finish me story" is cut due to the DVD version of the episode having no commercials. Here is what it is like on the DVD and airings on television:
DVD
Airings on TV
Patchy: Is Squidward right? Can there be a Christmas under the sea? Stay tuned. (Makes a sad face. Scene fades to black, then fades to Patchy again.) It's about time you got back! (Holds up a SpongeBob Christmas decoration) Now I can finish me story! (Scene cuts close to the decoration) So, SpongeBob was sending the last of the letters to Santa. (The rest of the episode goes normal.)
The YTV version of "Something Smells" is shown instead of the Nickelodeon USA version. In all U.S. airings, SpongeBob walks up to a building and says "Hi, building!" which causes the building to flee from SpongeBob's breath. He goes up to Patrick and says "I just don't get it!" and Patrick says "I don't either." In the DVD releases, as well as all YTV airings, the scene goes like this:

SpongeBob: (walks up to a building and waves) I just don't get it! (the building flees)
Patrick: (offscreen) I don't, either. (SpongeBob walks up to Patrick; the rest of the scene goes as normal, resulting in the same lines being repeated). (According to the commentary, this was a sound mixing error when the Season 2 DVD was made.)

The uncut version of "Procrastination" is included.
In 2014, at some point, this and The Complete First Season were released together in a 2-Season pack.
Errors
Alternate covers