The Complete 2nd Season
Comments

0
6,715pages
on ESB
This is the page about The Complete 2nd Season. If you were looking for the article about the re-release, then see The Complete Second Season.
The Complete 2nd Season is a SpongeBob SquarePants DVD box set that contains all 39 episodes from Season 2.
Episodes
Disc 1
Disc 2
Disc 3
Specials
Bonus features
Storyboards
Audio commentaries
Other
Nick DVD Game Demo
Script Viewer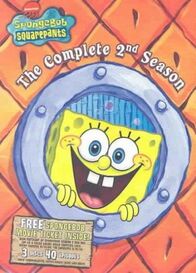 Trivia
Patrick: (offscreen) I don't, either. (SpongeBob walks up to Patrick; the rest of the scene goes as normal, resulting in the same lines being repeated). (According to the commentary, this was a sound mixing error when the Season 2 DVD was made.)

Even though "Squid on Strike" is 40a and "Sandy, SpongeBob, and the Worm" is 40b, disc 3 has the opposite (40b and 40a).
In the Christmas special, they removed 2 parts: 1 with commerical break warning, and the other where Patchy the Pirate says "It's about time you came back. Now I can finish me story" due to the DVD version of the episode having no commercials.
The original airing of the episode "Procrastination" is included.
Contents of the disc are available in Spanish stereo.
The UK release had one bonus feature. It was the "Around the World with S

pongeBob SquarePants" featurette.
This is the first seasonal DVD release to be rated G in Canada, unlike the first season DVD (Which rated PG.)
In the trailer of the DVD box set, the artwork was slightly different, but it was changed before being released.
The following disc covers are based on the episodes were:
Errors
On the Disc 2 cover, Barnacle Boy's Pants are colored blue instead of black.
Like the 2003 DVD release of Tide and Seek, it misspelled "Squidville" as "Squidsville". on disc 2. However, the re-release corrected this mistake. 
Just like the 2002 VHS release of Nautical Nonsence, the 2002 DVD of Nautical Nonsense and Sponge Buddies and the 2009 DVD boxset of The First 100 Episodes, it listed "Graveyard Shift" name as "The Graveyard Shift."
Covers
Disc covers
Alternate covers