Book
Tell Me, Magic Shell is a SpongeBob SquarePants book published by Scholastic Inc. in 2005. In this book, SpongeBob and Patrick question the Magic Conch Shell to see if they are really best friends.
Synopsis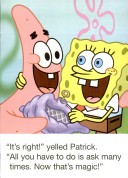 The book starts with SpongeBob displaying the Magic Conch Shell to Patrick. In order to test it out, SpongeBob asks the shell if Patrick and him were very best friends, only for it to reply "ask again later." After Patrick is verified by SpongeBob that it was in fact later, SpongeBob pulls the cord again, this time asking it if his friend was pink, only for it to reply "no."
Patrick is confused. SpongeBob says that Patrick is in fact his best friend. Patrick then claims that they were friends since the day they met and the shell is broken. After SpongeBob concludes that no shell can tell them if they are friends or not, Patrick says to try again just for fun. The shell then replies yes. Patrick ends the story, saying that all you have to do is ask many times. "Now that's magic!" he ends.
Cover
The cover takes place in a white background and grassy field, and shows Patrick holding the Magic Conch Shell while SpongeBob pulls on its string.
Trivia
This book is loosely based on the episode "Club SpongeBob" since the Magic Conch Shell first appears in and plays a major role in that episode.
Books (V • E)
A Christmas Coral • A Very Krusty Christmas • Adventures in Bikini Bottom • And the Winner Is... • Another Day, Another Sand Dollar • Are We There Yet? • Atlantis SquarePantis • Attack of the Zombies! • Behold, No Cavities! • Best in Show • Bikini Bottom Riddles • Blizzard Bluster!: SpongeBob's Book of Frosty Funnies • Blast Off, Splash Down! • Bottoms Up! Jokes from Bikini Bottom • Bubble Blowers, Beware! • Bubble Busters • Bubble Trouble • Buried Treasure • Bad Luck Day • Camp SpongeBob • Chuckle and Cringe: SpongeBob's Book of Embarrassing Stories • Class Confusion • Classroom Crack-ups! • Confessions of a Sponge • Crime and Funishment • Dancing With The Star • Deep-Sea Tales • Don't Pencil Me In! • Don't Rock the Boat • Demolition Derby • Drive Thru • Factory Fresh! • Fearless • Find It! • Fish Happens! • For the Love of Bubbles • Food Fight! • Friends Forever • Go, Graduate!: All the Best from Bikini Bottom • Gone Jellyfishin' • Gone Nutty! • Good Enough to Eat! • Good Ideas... and Other Disasters • Guitar Songs: Songs for a Duck at Sea • Grand Prize Winner! • Hands Off! • Happy Birthday, SpongeBob! • Haunted Houseboat • Hall Monitor • Hide and Sneak • Hooray for Dads! • I Ripped My Pants! • Ice Cream Dreams • Ice Cream Time • It's a SpongeBob Christmas! • In a Fix • Jellyfish Jam • Jokes from the Krusty Krab • Krabby Patty Caper • Krusty Krab Adventures • Life's a Beach and Other SpongeBob-isms • Lunch Rush • Mistaken Identity • Man Sponge Saves the Day • Mother Knows Best • Moms Are the Best! • Merry Christmas, SpongeBob • Meow...Like a Snail?! • My Happy Book: SpongeBob's 10 Happiest Moments • Naughty Nautical Neighbors • Nautical Nonsense: A SpongeBob Joke Book • New Student Starfish • Once Upon a SpongeBob • Patrick's Backpack Book • Pirates of Bikini Bottom • Pest of the West • Ripped Pants • Rock Stars! • Rub A Dub Dub • Salty Sea Stories • Scared Silly! • Sea Mail • Show Me the Bunny! • Special Delivery! • SpongeBob Airpants: The Lost Episode • SpongeBob and the Princess • SpongeBob DetectivePants: The Case of the Missing Spatula • SpongeBob DetectivePants in the Case of the Vanished Squirrel • SpongeBob Goes Green! • SpongeBob Goes to the Doctor • SpongeBob JokePants • SpongeBob MoviePants • SpongeBob PartyPants • SpongeBob Saves the Day • SpongeBob, Soccer Star! • SpongeBob SquarePants Joke Book • SpongeBob SquarePants Trivia Book • SpongeBob SquarePants: The Essential Guide • SpongeBob LovePants • SpongeBob SpookyPants • SpongeBob Tees Off • SpongeBob RoundPants • SpongeBob's Book of Excuses • SpongeBob's Easter Parade • SpongeBob's Runaway Roadtrip • SpongeBob's Secret Valentine • SpongeBob's Slap Shot • SpongeBob SquarePants Sudoku Puzzles 1 • SpongeBob SquarePants Sudoku Puzzles 2 • SpongeBob SquarePants Sudoku Puzzles 3 • Sponge on the Run! • Spongezilla Attacks! • Stop the Presses! • Stopped Clock • Tales From Bikini Bottom • Tea at the Treedome • Tell Me, Magic Shell • The Art Contest: No Cheating Allowed! • The Amazing SpongeBobini • The Big Halloween Scare • The Great Escape • The Great Train Mystery • The Adventures of Man Sponge and Boy Patrick in Goodness, Man Ray! • The Adventures of Man Sponge and Boy Patrick in What Were You Shrinking? • The Adventures of Man Sponge and Boy Patrick in E.V.I.L vs. the I.J.L.S.A • The Good, The Bad, and the Krabby • The Good, The Bad, and the Krabby! • The Great Snail Race • The Never-Ending Stay • The Song That Never Ends • The SpongeBob SquarePants Experience: A Deep Dive into the World of Bikini Bottom • The SpongeBob SquarePants Movie • The SpongeBob SquarePants Movie (Cine-Manga) • The SpongeBob Movie: Sponge Out of Water: The Junior Novelization • The Annual Big Book of SpongeBob SquarePants • The Three Little Neighbors • They Blow Up So Fast! • Trouble at the Krusty Krab! • UFO! • Vote for SpongeBob • Where's Gary? • What's Cooking, SpongeBob? • Who's Hungry? • WhoBob WhatPants? • Yo-Ho-Ha-Ha-Ha!: A Pirate Joke Book • You're Fired! • You Snooze, You Lose • Zoo Day Disaster