Ad blocker interference detected!
Wikia is a free-to-use site that makes money from advertising. We have a modified experience for viewers using ad blockers

Wikia is not accessible if you've made further modifications. Remove the custom ad blocker rule(s) and the page will load as expected.
Online game
Super Brawl 3 is a SpongeBob SquarePants online game. It was released in 2013. It features many characters from outside the SpongeBob SquarePants series including The Fairly OddParents, The Legend of Korra, Kung Fu Panda: Legend of Awesomeness, Teenage Mutant Ninja Turtles, Power Rangers Samurai, Rabbids Invasion, Sanjay & Craig, Breadwinners, and Winx Club. This game is also based on many popular fighting games mainly Capcom's Street Fighter franchise.
Gameplay
In this game, the player can just the Z and X buttons to jump and kick and use the arrow buttons to move around. The player must also win two rounds in order to advance to the next stage. The player can also choose between Story Mode, Multiplayer, Free Play, and Training mode. Players can store Fan Power to unleash a special attack.
Characters
Playable characters
In this game, the characters are divided into the "Good" characters and the "Evil" characters.
Good
Korra
Aang (adult)
Timmy Turner
Leonardo
Donatello
Raphael
Michelangelo
Po
Bloom
Gold Ranger
Sanjay & Craig
Tufflips
Breadwinners (SwaySway and Buhdeuce)
B.O.B.
Sqweep
Evil
Denzel Crocker
Tahno
Amon
Xandred
Shredder
Master Junjie
Rabbids
Noodman
Arenas
| Name | Show |
| --- | --- |
| Krusty Krab Alley | SpongeBob SquarePants |
| Fairy World Stadium | The Fairly OddParents |
| Turtle Stadium | Teenage Mutant Ninja Turtles |
| Downtown Rooftops | Teenage Mutant Ninja Turtles |
| Oogway's Retreat | Kungfu Panda |
| Aang's Memorial | Legend of Korra |
| Southern Air Temple | Avatar: The Last Airbender |
| Sanzu River | Power Rangers  |
| Monster Bay | Monsters VS Aliens |
| Alfea Tower | Winx Club |
| Rabbids Apartment | Rabbids Invasion |
Walkthrough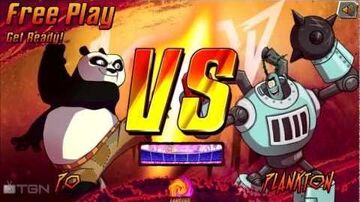 Trivia