Online game
Super Brawl 2 is a SpongeBob SquarePants online game. It features many characters outside the series including: Planet Sheen, T.U.F.F. Puppy, Fanboy & Chum Chum, Monkey Quest, The Penguins of Madagascar, Jimmy Neutron, Back to the Barnyard, The Mighty B!, Avatar: The Last Airbender, Danny Phantom, and The Fairly OddParents.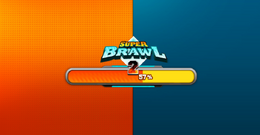 Characters
Playable characters
Non-playable characters
Arenas
Trivia
Ad blocker interference detected!
Wikia is a free-to-use site that makes money from advertising. We have a modified experience for viewers using ad blockers

Wikia is not accessible if you've made further modifications. Remove the custom ad blocker rule(s) and the page will load as expected.