Stephen McDannell Hillenburg[1] (born August 21, 1961) is an American animator and the creator of SpongeBob SquarePants. He has returned as a SpongeBob SquarePants crew member as of after the second movie. He was also the early voice of Potty the Parrot and is the one who made all the show's episodes possible.
Hillenburg also played the ukulele on some of the original music composed for the show, including the "Best Day Ever" special.
Credits
Episodes
Movies
Amusement rides
Trivia
in Help Wanted, Hillenburg's last name is misspelled as "Hilleburg."
"Ok everybody. One last time. Steve Hillenburg is coming back to the show in January, Your collective dreams are coming true." - Paul Tibbitt's Twitter

He is also a marine biologist.
He has been sued by Troy Walker (see below).
Lawsuit
In 2007, Troy Walker, a cartoonist from Fairfield, California, sued Hillenburg, claiming that Hillenburg stole his ideas from Walker's 1991 comic strip, Bob Spongee, the Unemployed Sponge. Walker argued that the concept and design of Hillenburg's SpongeBob SquarePants was lifted from his "Bob Spongee" homemade toy character. In his original concept, Walker drew a face on a kitchen sponge and attached plastic googly eyes. He placed the model in a transparent bag that included the comic strip, and sold it in Northern California as collectibles at flea markets and through the mail in 1992. Walker claimed that he produced 1,000 of the "drawn-on" dolls. In 2002, after learning about SpongeBob SquarePants, Walker concluded: "It obviously fell into the hands of one of the producers of the show. It's a clear pattern of duplication." He filed the lawsuit against Hillenburg, Paramount Studios, and Nickelodeon and their parent company, Viacom, in a United States district court in San Francisco. He had demanded $1.6 billion in damages, and alleged that the accused used his idea without his permission [2] .[3] He said that "they took all of it." Walker also pointed out that the show's pilot episode, "Help Wanted" (in which an unemployed SpongeBob gets his job at the Krusty Krab), was proof that the defendants stole his concept. The settlement was later dropped after a summary judgement in Viacom's favor.
Video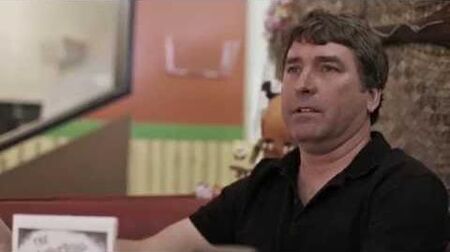 References
External links
Wikipedia may have more biographical information on this person. Please see Wikipedia's article here.