"If I showed you what was inside, it wouldn't be a secret anymore."

This article contains speculative information. Please keep this in mind as you read it.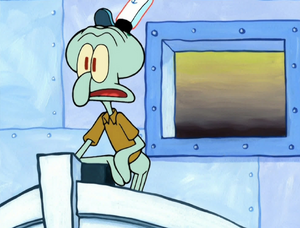 This article is about the interactions between Squidward and Mr. Krabs.
Overview
Unlike SpongeBob's and Mr. Krabs' father and son relationship Squidward's and Mr. Krabs is more of a run of the mill employee and employer. They do not necessarily consider each other friends but are shown to get along in certain situations. They are shown to have multiple fights with one another mostly concerning with Mr. Krabs' greed or Squidward's lazy tendencies. Though they have many differences they do have a long history together as shown in multiple episodes where it is assumed that Squidward was one of the first, if not the first, employee to work for the Krusty Krab. Unlike SpongeBob, Squidward is far more aware of Mr. Krabs' character as a greedy, crustaceous cheapskate who only cares about his own personal gain and often shows this attitude toward him directly. Though Squidward will sometimes respect and listen to Mr. Krabs' authority. Mr. Krabs does also think very lowly of Squidward often blaming him for mishaps though does still see him as a valued member of the Krusty crew on occasion.
Episodes they were friends
Help Wanted: At first, both of them did not want SpongeBob working at the Krusty Krab, so they got rid of him. When the anchovies rampaged in the Krusty Krab, both held on to each other for survival.
Squid on Strike: When Mr. Krabs begged him and SpongeBob to come back to their jobs, Squidward agreed and took a stroll. This ended however when SpongeBob destroyed the Krusty Krab.
Episodes they were enemies
Ad blocker interference detected!
Wikia is a free-to-use site that makes money from advertising. We have a modified experience for viewers using ad blockers

Wikia is not accessible if you've made further modifications. Remove the custom ad blocker rule(s) and the page will load as expected.