Special

"Square Roots: The Story of SpongeBob SquarePants" is a SpongeBob SquarePants special. It is a documentary about the development of SpongeBob SquarePants and how it became a huge success. It was made to celebrate the 10th anniversary of the show. It can be found in the The First 100 Episodes DVD.
Interviews
Synopsis
The documentary focuses on SpongeBob SquarePants and its fame around the world. It also focuses how it is created and how it became an international phenomenon. It also discusses the controversy of homosexual agenda against SpongeBob, the election of Patchy the Pirate as president of the SpongeBob Fan Club, and the fan mail Nickelodeon is receiving as reactions to SpongeBob.
I can turn into a skyscraper!

This section is too short. You can help the Encyclopedia SpongeBobia by

expanding

it.
Songs
Plot
The story of the development of SpongeBob SquarePants, features interviews and commentaries from crew members, including creator Stephen Hillenburg, as well as celebrity fans, such as LeBron James, Ricky Gervais, and Rosario Dawson.
Trivia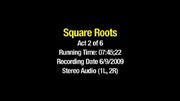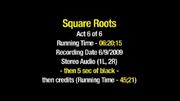 Video
References