If you were looking for the article about the sport, then see Spurskate (sport).
"Spurskate" is a SpongeBob SquarePants Pest of the West short. In this short, SpongeBuck and Pecos Patrick ride on spurskates.
Characters
Synopsis
The announcer is talking about how people are tired of the exact same recreational activities and introduces the newest trend,
Spurskate
. SpongeBuck is seen skating on his spurs, saying it is fun and even Pecos Patrick says that even someone like him can do it.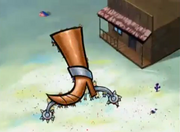 The announcer continues talking about the Spurskate, saying how someone can even "Freestyle Spurskate" with Hopalong Tentacles sawing through the rink. SpongeBuck is even seen jumping over seahorses and cacti on fire and breaks his legs in the process.
The announcer finishes off the Spurskate ad, with Gulchites making a spurskate shape.
Production
Music
( ‣ ) Associated production music

( • ) Original music

( ◦ ) SpongeBob music

 ‣ The Wild West (a) - Ron Goodwin [Plays throughout]

Trivia
Errors
At the beginning of the short, a few fish are playing with horseshoes. However, they should not have horseshoes, as there is no reason for any underwater creature to wear them.