| | |
| --- | --- |
| | "I can't hear you! It's too dark in here!" |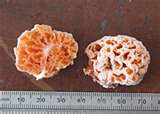 Spongiforma squarepantsii is a species of fungus in the Boletaceae family, genus Spongiforma. Found in Malaysia, it was described as new to science in 2011. It produces sponge-like, rubbery orange fruit bodies that have a fruity or musky odor; however, it is not a sponge. The fruit bodies reach dimensions of 10 cm (3.9 in) wide by 7 cm (2.8 in) tall. Like a sponge, they will resume their original shape if water is squeezed out. The spores, produced on the surfaces of the hollows of the sponge, are almond-shaped with rough surfaces, and measure 10–12.5 by 6–7 micrometers.
The name of the fungus is derived from the cartoon character SpongeBob SquarePants. S. squarepantsii is one of two species in Spongiforma; it differs from S. thailandica in its color, odor, and spore structure.
External links
Ad blocker interference detected!
Wikia is a free-to-use site that makes money from advertising. We have a modified experience for viewers using ad blockers

Wikia is not accessible if you've made further modifications. Remove the custom ad blocker rule(s) and the page will load as expected.