If you were looking for the article about the VHS, then see Sponge for Hire (VHS).
Sponge for Hire is a SpongeBob SquarePants DVD that contains 8 episodes from season 3.
Cover
The front cover shows a very happy crooked mouthed SpongeBob with his spatula and Mr. Krabs smiling next to him while having his hand around his back. They are also inside the Krusty Krab.
Episodes
Bonus Features
Storyboards
Other
Trivia
The DVD features the credits from the Krusty Krab Training Video with an extended version of the music from the episode.
The DVD also contains short trailers for various Nickelodeon shows. These include The SpongeBob SquarePants Movie, All Grown Up: Lucky 13 DVD and VHS tape, The Complete 2nd Season DVD box set, DuelMasters DVDs and VHS tapes, Transformers Energon, and Tak 2: The Staff of Dreams.
It is unknown if it will be or was re-released in the U.S.A.
The SpongeBob SquarePants intro was shown after the closing credits to "Krusty Krab Training Video" (Since the episode starts with the opening credits.)
This is the first single disc SpongeBob DVD to have episodes from only 1 season.
This is the first DVD to have Mr. Krabs on the cover.
This is the first single disc SpongeBob DVD not to contain an episode from season 1.
Errors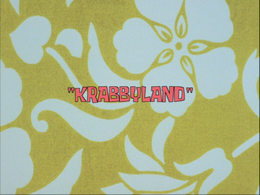 On the credits of the DVD, "Krabby Land" is listed as "Krabbyland."
In the episode selection menu, an image from "As Seen on TV" can be seen, although that episode is not on this DVD.
Alternate covers
Ad blocker interference detected!
Wikia is a free-to-use site that makes money from advertising. We have a modified experience for viewers using ad blockers

Wikia is not accessible if you've made further modifications. Remove the custom ad blocker rule(s) and the page will load as expected.