If you were looking for the article about the VHS, then see Sponge for Hire (VHS).
Sponge for Hire is a SpongeBob SquarePants DVD that contains eight episodes from Season 3. It was released on November 2, 2004, and is based on the episode "Krusty Krab Training Video."
Cover
The cover takes place in the Krusty Krab and shows a very happy crooked-mouthed SpongeBob with his spatula and Mr. Krabs smiling next to him while having his hand around his back.
Episodes
Bonus features
Storyboards
Other
Trivia
Errors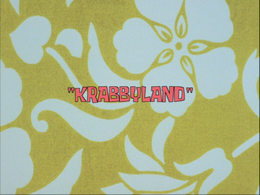 On the credits of the DVD, "Krabby Land" is misspelled as "Krabbyland."
In the episode selection menu, an image from "As Seen on TV" can be seen, even though that episode is not on this DVD.
Alternate covers
Ad blocker interference detected!
Wikia is a free-to-use site that makes money from advertising. We have a modified experience for viewers using ad blockers

Wikia is not accessible if you've made further modifications. Remove the custom ad blocker rule(s) and the page will load as expected.