If you were looking for the article about the soccer book, then see SpongeBob, Soccer Star!.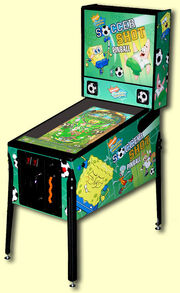 The SpongeBob SquarePants Soccer Shot Pinball arcade game is a pinball machine produced by 21st Century Entertainment.
Description
As with a regular pinball machine, the player uses two hammers at the bottom of the machine to hit metal balls up to holes where the hole determines how many tickets the player is awarded. [1]
References
Ad blocker interference detected!
Wikia is a free-to-use site that makes money from advertising. We have a modified experience for viewers using ad blockers

Wikia is not accessible if you've made further modifications. Remove the custom ad blocker rule(s) and the page will load as expected.