"It's Squidward, silly!"

This article is in need of one or more better quality images. Please help Encyclopedia SpongeBobia by uploading a better image or editing the current image.
Please remove this message when finished.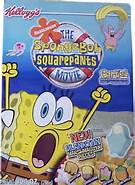 In 2003, Kellogg's made a SpongeBob SquarePants cereal featuring SpongeBob SquarePants-themed marshmallows and were made of oats. In 2004, the cereal was brought back, this time with Plankton-shaped marshmallows to promote The SpongeBob SquarePants Movie.
2003:
2004:
SpongeBob SquarePants
Patrick Star
SpongeBob's pineapple
Jellyfish
The SpongeBob SquarePants Movie edition depicts SpongeBob's face when he (in actuality, Squidward) "wins" the manager position during the Krusty Krab 2 grand opening ceremony in the film.
Another scene from the movie depicted on the box is Patrick randomly flying through Bikini Bottom with a parachute. However, unlike in the movie, here he is shown wearing clothes.

This was likely to avoid controversy and complaints about the character's nudity.

The cereal was described on the box as a "presweetened, multi grain cereal with marshmallows."