SpongeBob SquarePants 400
General Information
Location:
Kansas Speedway
Kansas City, Kansas
Sponsor:
Nickelodeon
Date(s):
May 9, 2015
Host(s):
NASCAR
List of events
The SpongeBob SquarePants 400 is an NASCAR Sprint Cup Series race. On March 2, 2015, it was announced that Nickelodeon was sponsoring the NASCAR Sprint Cup Series race at Kansas Speedway in Kansas City, KS. It was held on May 9, 2015. Following the sponsorship the race is called SpongeBob SquarePants 400.
Gallery
Video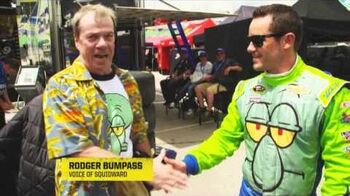 External links
Article needs expansion

This article is in need of expansion, but it is not a stub. You can help Encyclopedia SpongeBobia by adding more information. Please remove this template when done.