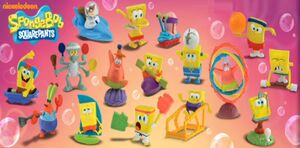 In late July 2012, McDonald's' released 16 SpongeBob SquarePants sports-themed Happy Meal toys in America. The toys were to promote the 2012 London Summer Olympics.
Toys
SpongeBob Skateboarder
SpongeBob Karate
SpongeBob Basketball
Patrick Spinner
SpongeBob Weightlifter
SpongeBob Soccer
SpongeBob Windsurfer
Gary Skater
SpongeBob Kayaker
Patrick Rideo
SpongeBob Gymnast
Squidward Tennis
SpongeBob Golfer
SpongeBob Discus
Sandy Rocket Boat
Mr. Krabs Fencing
Trivia
The theme song is parodied in the commercial.

The logo is also purple instead of blue in the commercial.

Squidward's second pair of legs are a second pair of his arms on his figure.
Videos
Gallery
Ad blocker interference detected!
Wikia is a free-to-use site that makes money from advertising. We have a modified experience for viewers using ad blockers

Wikia is not accessible if you've made further modifications. Remove the custom ad blocker rule(s) and the page will load as expected.