"
Mr. Krabs turned the Krabby Patty into pure gold!
"
 

— Quote from The Golden Krabby Patty Spectacular trailer
SpongeBob Gold
General Information
Location:
Nickelodeon Greece
Nickelodeon Australia
Nickelodeon Asia
Nickelodeon Latin America
Nickelodeon Turkey
Nickelodeon South Korea
YTV
Nickelodeon Canada
Nicktoons UK and Ireland
Nickelodeon Russia
Nickelodeon Germany
Nickelodeon Portugal
Date(s):
Greece:
February 8-22, 2017
Asia:
February 24, 2017
Latin America:
February 22, 2017
Brazil/Canada:
February 25, 2017
UK/Ireland:
February 28, 2017
Germany:
March 4, 2017
Russia:
March 12, 2017
Spain/Iberia/Portugal:
March 25, 2017
Time:
Greece:
7:15 AM, 4:30 PM, 9:30 PM
Asia:
3:00-6:00 PM (Indonesia)
4:00-7:00 PM
YTV:
13:30 PM-17:30 E/P
# Episode(s):
9 (+1 new)
List of events
SpongeBob Gold is a year-long international campaign. It features The Golden Krabby Patty Spectacular, an international event that features a marathon of Krabby Patty-themed episodes, leading up to the premiere of "Goodbye, Krabby Patty?." It first aired in Greece, starting on February 8, and ending with a 3-hour marathon/reairing of the episodes aired before, on February 22, 2017, when the episode premieres. It was also aired in Australia on February 18, in Asia on February 24, in Brazil and Canada, on February 25, in UK and Ireland, on February 28, in Russia, on March 12, in Germany on March 4 and in South Korea. That campaign is also promoting new SpongeBob episodes from Season 10.
Other features include various clips, contests and a fashion collection, which will be available from May 2017.

Episodes
Title card
#
Title
Airdate
Viewers (millions)

189
"SpongeBob You're Fired"
Greece:
February 8, 2017

N/A

When Mr. Krabs fires SpongeBob to save money, SpongeBob must find other work, at other restaurants.

89a
"The Krusty Sponge"
Greece:
February 9, 2017

N/A

Mr. Krabs makes the Krusty Krab SpongeBob-themed after a critic reviews SpongeBob's work.

25b
"Patty Hype"
Greece:
February 9, 2017

N/A

SpongeBob makes "Pretty Patties." Paired with "The Krusty Sponge."

44a
"Nasty Patty"
Greece:
February 10, 2017

N/A

SpongeBob and Mr. Krabs create a tainted Krabby Patty.

39a
"Jellyfish Hunter"
Greece:
February 10, 2017

N/A

Mr. Krabs sells jellyfish jelly at the Krusty Krab. Paired with "Nasty Patty."

43a
"Just One Bite"
Greece:
February 13, 2017

N/A

SpongeBob tries to get Squidward to try a Krabby Patty.

97a
"20,000 Patties Under the Sea"
Greece:
February 13, 2017

N/A

Mr. Krabs sends SpongeBob and Patrick to run a traveling restaurant. Paired with "Just One Bite."

150a
"Krusty Dogs"
Greece:
February 14, 2017

N/A

Mr. Krabs changes his menu from Krabby Patties to hot dogs.

167a
"The Krabby Patty That Ate Bikini Bottom"
Greece:
February 14, 2017

N/A

A Krabby Patty grows too large after Mr. Krabs adds Sandy's scientific ingredients to it.
New episode
Other features
Shorts
Shorts about the Top 10 Krabby Patty Varieties throughout the show till "SpongeBob You're Fired", Flipper and his experience working on Nickelodeon and other have been shown across many countries.
Online games
In Asia, with your enterance to Urladdress.com, you can play the following online games:
There are also, sites across other countries, like Nickelodeon.gr in Greece, where you can play them, as part of the event.
Contests
The Golden Krabby Patty Spectacular contest
In Asia, there's a contest where the contestant has to see 5 promos about the event and tell "
what you think the secret recipe for the Krabby Patty is!
," in order to win, for example an exclusive lunch box from the series. Other prizes include the DVD "
Sea Side Story
" and a limited edition apron.
Easter candles contest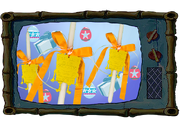 In Greece, there's a contest where after watching 1 hour of Nickelodeon programming (22:00-23:00 PM; UTC +2; starting on March 17), the contestant has to tell how many golden pineapples he saw, in order to win one of the 200 easter candles and a selfie with SpongeBob himself.
Fashion collection
Nickelodeon & Viacom Consumer Products unveiled on February 17, 2017, the SpongeBob Gold fashion collection at London Fashion Week, with six international designers: Peter Jensen, Bobby Abley, Salar, Maria Francesca Pepe, Suecomma Bonnie and Bad Denim. That fashion collection features 27 individual pieces of clothing for men and women, footwear, accessories and jewelry. It will be available at retail exclusively outside of the US from May 2017, with retail partnerships to be announced soon.
Videos
Greece
Australia/Asia
Latin America
Brazil
Canada
South Korea
Russia
Germany
Iberia
Arabia
Gallery
Trivia
This is the first themed event of episodes of an animated series, aired on Nickelodeon Greece.
In Greece, the time slot of 7:15 AM where the same episode with the others is aired, isn't mentioned in the trailer.
In Greece, the event started twelve years after Gone Jellyfishin' was released, five years after SpongeBob Comics No. 7 was released and one year after Bikini Bottom's Most Wanted was released in the UK.
In Asia, the marathon aired eight years after SpongeBob's Greatest Hits was released and Good Ideas... and Other Disasters was published, six years after "The Play's the Thing" and "Rodeo Daze" premiered in Poland and two years after Wikia Fan App for: SpongeBob was released and "Gary's New Toy" premiered in Germany and Poland.
In Brazil and Canada, the marathon aired two years after "License to Milkshake" premiered in Germany and Poland.
In Greece the easter candles contest started twelve years after The SpongeBob SquarePants Movie was released in theaters in Russia, Singapore, and the Czech Republic, eight years after "Toy Store of Doom" premiered and two years after the tenth clip of The SpongeBob Movie: Sponge Out of Water was released online.
External links
Ad blocker interference detected!
Wikia is a free-to-use site that makes money from advertising. We have a modified experience for viewers using ad blockers

Wikia is not accessible if you've made further modifications. Remove the custom ad blocker rule(s) and the page will load as expected.