If you were looking for the article about the VHS, then see SpongeBob Goes Prehistoric (VHS).
This is the page about SpongeBob Goes Prehistoric. If you were looking for the article about episode this DVD is based on, then see Ugh.
SpongeBob Goes Prehistoric is a SpongeBob SquarePants DVD that contains two episodes from season 1, three episodes from season 2, and four episodes from season 3. It was released on March 9, 2004, and is based on the episode "Ugh."
Cover
The cover takes place in the prehistoric version of Bikini Bottom and shows SpongeGar holding a club with Patar and Squog looking at him.
Episodes
Bonus features
Video game demos
Trivia
This DVD also contains previews for the following:
Advertisements in the DVD case are advertisements for other Nickelodeon VHSs (also known as "videos") and DVDs for Jimmy Neutron: Sea of Trouble on VHS and DVD, SpongeBob: Tide and Seek on DVD, SpongeBob: Sea Stories on video and DVD, and SpongeBob: The Seascape Capers on video and DVD. On the other side is an ad for SpongeBob books.
This DVD was released three years after "Shanghaied" premiered.
This DVD was also released on VHS, with only the first four episodes on it.
This DVD was re-released in a triple pack DVD along with Home Sweet Pineapple and Where's Gary? on June 2, 2015.
This is the first SpongeBob DVD where the Nickelodeon logo is shortened to "Nick" on the front cover. On the disc though, the full Nickelodeon logo remains.
Errors
SpongeGar has two sleeves on the front of this DVD, while he only has one in the episode (on his left arm).
SpongeBob in his "modern" appearance appears on the spine in place of SpongeGar.
Alternate covers
Videos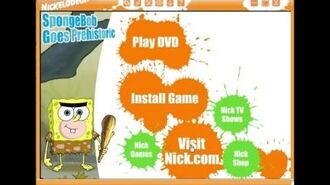 Ad blocker interference detected!
Wikia is a free-to-use site that makes money from advertising. We have a modified experience for viewers using ad blockers

Wikia is not accessible if you've made further modifications. Remove the custom ad blocker rule(s) and the page will load as expected.