This article is under construction.

This article is currently in the middle of an expansion or major revamping. Please help Encyclopedia SpongeBobia by contributing to it.
Please remove this message when finished.
"It's Squidward, silly!"

This article is in need of one or more better quality images. Please help Encyclopedia SpongeBobia by uploading a better image or editing the current image.
Please remove this message when finished.
SpongeBob is the Italian dub of SpongeBob SquarePants that started airing in 2004 on Italia 1. The Italian version of the intro has some different animations that are also seen in the Korean, French, Castilian Spanish, and Welsh versions of the opening. It currently airs on Nickelodeon and Super! It is part of International SpongeBob SquarePants.
Name translations
Most of the Italian names are not translated, but sometimes they are written in the same way that they are pronounced in Italian.
Trivia
In a 2013 Simpsons episode, they featured a video called "Spugna Roberto Quadrati Pantaloni" which translates as "Sponge Roberto SquarePants."
Unlike lots of other foreign dubs, this one does not have a name in a foreign language. It also does not dub the theme song (except for Painty and the kids at the beginning) and instead uses an instrumental version without any vocals. (Some DVD releases use the English theme.)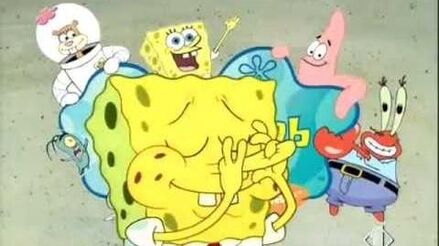 Gallery
Ad blocker interference detected!
Wikia is a free-to-use site that makes money from advertising. We have a modified experience for viewers using ad blockers

Wikia is not accessible if you've made further modifications. Remove the custom ad blocker rule(s) and the page will load as expected.