SpongeBob's Sundae
Talk

0
6,563pages
on ESB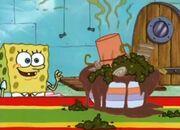 SpongeBob's Sundae, is only seen in the episode "Something Smells". It is a sundae SpongeBob made which gave him bad breath.
History
In celebration of it being Sunday, SpongeBob made a sundae using unconventional ingredients because he did not have ice cream and because bananas and cherries were "boring." It gave SpongeBob bad breath that caused everyone in Bikini Bottom, excluding Patrick (because he doesn't have a nose), to avoid him, and since SpongeBob did not realize it was because of his breath, he assumed it was because he was ugly. Patrick tries some of the sundae, causing SpongeBob to realize that the sundae gave them both rancid breath.
Ingredients
Ketchup
Onions
Peanut plant (including the dirt)
Trivia
It is strange, as cherries and bananas are popular ingredients of real sundae, and SpongeBob doesn't think they would be good ingredients. Of course, though, this is probably just SpongeBob's nature.