Spatula
Type:
Kitchen Tool
First appearance:
"Help Wanted"
Latest appearance:
Present Day
"It's Squidward, silly!"

This article is in need of one or more better quality images. Please help Encyclopedia SpongeBobia by uploading a better image or editing the current image.
Please remove this message when finished.
Spatulas are a kitchen tool designed to cook a certain range of foods as shown in the SpongeBob SquarePants series whom SpongeBob used to cook food at the Krusty Krab namely Krabby Patties. Mr. Krabs referred them to "advanced patty-control mechanism" in "The Krusty Krab Training Video."
Design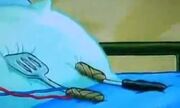 A regular spatula is made up of the handle and the blade. Spatulas in the series often have holes to allow liquids to flow. Rubber makes up part of the handle to prevent the fry cook from burning his hand.
Known Spatulas