Online game
SmashFest is a SpongeBob SquarePants online game.
Gameplay
Who will defeat until victory and bring home King Julian's crown? SpongeBob? Otis? Timmy? Private? Or Patrick? Use the left and right arrow keys to move, the up arrow key to jump, and hold the spacebar for 5 seconds to initiate special attack, then press spacebar to use special attack. Each character must try to push each other off the platforms and into the water or fight until all their health runs out. Each character has 3 lives, their own special attack, limited speed, punch and kick power, and jump boost. The last character standing is the winner and will receive the crown and a message from King Julian.
Playable characters
Non-playable characters
Trivia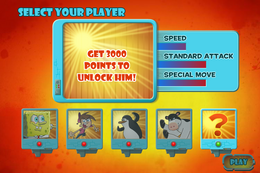 Patrick can only be unlocked by getting 3000 points.
Ad blocker interference detected!
Wikia is a free-to-use site that makes money from advertising. We have a modified experience for viewers using ad blockers

Wikia is not accessible if you've made further modifications. Remove the custom ad blocker rule(s) and the page will load as expected.