Season 10 of SpongeBob SquarePants is expected to premiere in early summer of 2016.[2][3][4][5] It was originally planned to premiere in 2014, but it got delayed due to the production of The SpongeBob Movie: Sponge Out of Water. On December 3, 2014, Vincent Waller announced on Twitter that there will be "Fifteen half hours" in season 10.[6] Season 10 was confirmed to be in production by Nickelodeon on March 2, 2016.[7] There is also no official artwork for this season yet.
Production
According to Vincent Waller, the production of Season 10 began on October 12, 2015.[8] Vincent also revealed that fans will see a "different flavor in the animation" of the series.[9] On December 18, 2015, Vincent Waller tweeted some early production work of the first Season 10 episode.[10]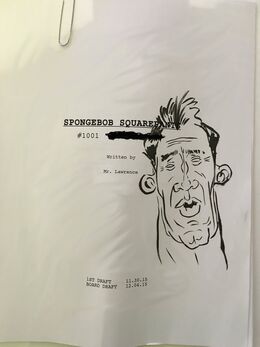 There is at least one 22 minute episode planned for Season 10.[11] [12]
References