Season 10 of SpongeBob SquarePants premiered on October 15, 2016. The season was announced to be happening on May 21, 2012. It was originally planned to premiere in 2014, but it got delayed due to the production of The SpongeBob Movie: Sponge Out of Water. On December 3, 2014, Vincent Waller announced on Twitter that there will be "15 half hours" in season 10.[1] On July 16, 2016, Vincent Waller announced on Twitter that the number has now been shortened to "13 half hours" in season 10.[2] However, the number was again shortened to 11.[3] Season 10 was confirmed to be in production by Nickelodeon on March 2, 2016.[4] Season 10 first aired with "Whirly Brains" in October 15, 2016 and ended with "The Incredible Shrinking Sponge" on December 2, 2017.
Production
According to Vincent Waller, the production of season 10 began on October 12, 2015.[5] Vincent also revealed that fans will see a "different flavor in the animation" of the series.[6] On December 18, 2015, Vincent Waller tweeted some early production work of the first season 10 episode.[7]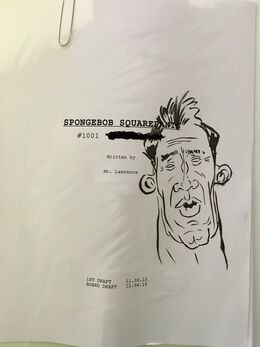 The season premiered on October 15, 2016, one year after it began production.[8] Season 10 was in post-production as of late 2016.[9]
Episodes
Title card
#
Title
Airdate
U.S. viewers (millions)

205a
"Whirly Brains"
October 15, 2016

1.77

SpongeBob and Patrick get hooked on the latest fad – flying your own brain like a tiny drone.

205b
"Mermaid Pants"
October 29, 2016

2.17

When SpongeBob and Patrick play Mermaid Man and Barnacle Boy, it's all fun and games until their "sworn enemies" arrive.

206a
"Unreal Estate"
June 3, 2017

1.69

SpongeBob fears that he is allergic to his pineapple house and Squidward offers to help him find a new home.

206b
"Code Yellow"
June 3, 2017

1.69

Squidward plans to get a nose job at the hospital and SpongeBob decides to tag along.

207a
"Mimic Madness"
February 25, 2017

2.12

SpongeBob learns that "imitation is the sincerest form of flattery" — too bad no one told him how to stop!

207b
"House Worming"
February 25, 2017

2.12

When worms move in to SpongeBob's holes, it's up to him to hide his disgusting new friends from everyone else.

208a
"Snooze You Lose"
March 4, 2017

2.12

Squidward is so tired that SpongeBob and Patrick cannot wake him up, but they will not let him miss his big audition.

208b
"Krusty Katering"
March 4, 2017

2.12

Mr. Krabs and his crew cater a fancy party, but they might be out of their depth with their new wealthy customers.

209a
"SpongeBob's Place"
March 11, 2017

2.27

SpongeBob cooks at home, prompting Mr. Krabs' customers to leave his restaurant and head for SpongeBob's place.

209b
"Plankton Gets the Boot"
March 11, 2017

2.27

Karen does not want Plankton to stay at the Chum Bucket anymore, leaving it up to SpongeBob to teach Plankton how to make it up to her.

210a
"Life Insurance"
March 18, 2017

2.13

A misunderstanding leads SpongeBob and Patrick to try and prove to Squidward that their life insurance protects them from any danger.

210b
"Burst Your Bubble"
March 18, 2017

2.13

When SpongeBob blows himself a Bubble Boat, everyone else in town wants one.

211a
"Plankton Retires"
March 25, 2017

2.07

Plankton decides to close the Chum Bucket and move to a new town, but Mr. Krabs still suspects he is up to something.

211b
"Trident Trouble"
March 25, 2017

2.07

SpongeBob accidentally picks up King Neptune's magic trident.

212a
"The Incredible Shrinking Sponge"
December 2, 2017

1.82

SpongeBob must figure out how to do his job after accidentally shrinking himself.

212b
"Sportz?"
July 16, 2017

1.99

Squidward invents a new sport to get back at SpongeBob and Patrick for annoying him.

213a
"The Getaway"
June 10, 2017

1.66

When SpongeBob mistakes an escaped convict for his driving instructor, it's the new teacher who learns a lesson.

213b
"Lost and Found"
June 10, 2017

1.66

Mr. Krabs sends SpongeBob in search of a missing toy, and SpongeBob finds himself lost in the lost-and-found.

214a
"Patrick's Coupon"
June 17, 2017

1.77

Patrick has a coupon for free ice cream, but if he wants to use it, he has to enter the store.

214b
"Out of the Picture"
June 17, 2017

1.77

Mr. Krabs buys Squidward's art, but he has to get the artist out of the picture to make profit.

215a
"Feral Friends"
October 7, 2017

1.81

A weird moon turns everyone in the city into wild animals, and Sandy is the only one who can save them.

215b
"Don't Wake Patrick"
October 7, 2017

1.81

Patrick sleepwalks and SpongeBob can't wake him up.
Trivia
This season has the fewest number of episodes of any SpongeBob SquarePants season.
This season has by far the greatest number of solo-written episodes.
This is the only season where all of the episodes are written by less then three people.
This is the only season yet to have different number of episodes than 20 and 26.
This season has had the most references to the earlier episodes, with at least one reference in every episode.
All of the main characters are on this season's promotional cover except Sandy Cheeks.
This is the second season to not have any double-length episodes. The first was season 1.
This season and season 5 are the only seasons not to include Goo Lagoon in any of the episodes.
Errors
References
Ad blocker interference detected!
Wikia is a free-to-use site that makes money from advertising. We have a modified experience for viewers using ad blockers

Wikia is not accessible if you've made further modifications. Remove the custom ad blocker rule(s) and the page will load as expected.