Sailor Mouth
Talk

7
5,234pages on
this wiki

Episode

Sailor Mouth is a SpongeBob SquarePants episode from season two. In this episode, SpongeBob learns a bad word on the dumpster behind the Krusty Krab.
Characters
Synopsis
The episode opens up with the closing of the Krusty Krab. SpongeBob leaves to go and take out the trash. When he goes around to the back
of the Krusty Krab. He reads some of the dumpster writing and one of the dumpster writings says: "Krabs is a..." When SpongeBob reads the word, a Garbage Man is angry at what SpongeBob said. SpongeBob then asks Patrick what it is and Patrick says that the word is a sentence enhancer.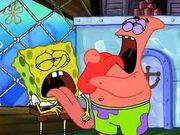 The next day, SpongeBob walks into the Krusty Krab and says the swear to Patrick and then over the intercom. The Krusty Krab customers are appalled by the swears said by SpongeBob and then leave. Squidward tells Mr. Krabs the story. Mr. Krabs decides to tell them that the swear is swear number 11 of a list of 13 swears (which is (very) bad luck to ones who use any of them). SpongeBob and Patrick decide to wipe the said word from their tongues and promise Mr. Krabs that they will never use it again.
Later, they play their favorite game, Eels and Escalators. Patrick gets escalators, but SpongeBob always gets eels and eventually he loses the game. After that, he utters swear number 11. Patrick then races to the Krusty Krab to tell Mr. Krabs with SpongeBob trying to stop him. During the chase, Patrick says the swear word so Spongebob starts racing faster than Patrick to tell on him. Patrick hitches a ride above an Ice-Cream Truck, but doesn't reach the Krusty Krab. SpongeBob bursts through the front door and tells Mr. Krabs that Patrick said the swear, but in a complicated way. Patrick then joins along, but they always end up changing the subject to something else. 
Eventually, Mr. Krabs stops their gibberish and they say what they need to tell him. When both of them say the swear, Mr. Krabs is offended. Mr. Krabs takes SpongeBob and Patrick outside and returns with cans of paint.
Mr. Krabs is about to give SpongeBob and Patrick the job, but he hits his foot on a rock, throws the paint away and says all thirteen swears while complaining about his foot being injured and hitting the rock. When SpongeBob and Patrick hear all the swears, they run to Mama Krabs' house to tell her that Mr. Krabs all thirteen swears. When they all reach her house, they repeat the same swears during their complicated explanation. This makes her faint, but shortly after Mr. Krabs scolds SpongeBob and Patrick for saying all those bad words in front of her she regains consciousness. Mama Krabs states that all three of them should be ashamed for saying all those words in front of her and if they are going to talk like sailors, then they are going to work like sailors. She then gives all three of them the task of painting her house with a fresh coat of paint as punishment for saying those words at her. She then hits her foot on a rock too, and even though Mr. Krabs thinks that his own mother said a swear, it is actually the horn of Old Man Jenkins' car. The episode ends with all the characters laughing.
Production
Music
( ‣ ) Associated production music

( • ) Original music

( ◦ ) SpongeBob music

 ‣ Sailing Over the Dogger Bank - Brian Douglas Gulland, Robin Jeffrey, Tim Laycock, Robert Alexander White [title card]
 ‣ Blow the Man Down - Brian Peters [closing time]
 ‣ The Tip Top Polka/The Cliff Polka - Chelmsford Folk Band [SpongeBob taking out the trash]
 • Vibe Sting - Nicolas Carr ["Hmm?"]
 ‣ Tomfoolery - David Snell [sentence enhancers]
 ‣ The Rake Hornpipe - Robert Alexander White [the Krusty Krab the next day]
 ‣ Dramatic Cue (h) - Ronald Hanmer ["The Krusty Krab! She's empty!"]
 ‣ Dramatic Cue (g) - Ronald Hanmer ["All hands on deck!"]
 ‣ Advance Attack - Sam Fonteyn [Krabs chews out SpongeBob and Patrick]
 ‣ Bobby Shaftoe - Brian Peters ["That's bad word number 11."]
 ‣ ? [they promise not to use the word again]
 • ? - Sage Guyton, Jeremy Wakefield [Eels, Escalators]
 ‣ Dramatic Cue (d) - Ronald Hanmer ["Ooh... you said number 11!"]
 ‣ Six Powerful Cues (d) - Wilfred William Burns ["I didn't mean..."]
 • ? - Sage Guyton, Jeremy Wakefield [Patrick goes to tell on SpongeBob]
 ‣ Dramatic Impact 3 - Ivor Slaney ["Do my ears deceive me?"]
 ‣ The Achterhoek Dances - Jan Rap ["Time to take out the trash."]
 ‣ Dramatic Cue (e) - Ronald Hanmer [SpongeBob and Patrick worried]
 ‣ Blow the Man Down (c) - Robert Alexander White ["I'm sorry, Patrick."]
 ‣ The Achterhoek Dances - Jan Rap [Krabs says all 13 bad words]
 • ? - Sage Guyton, Jeremy Wakefield ["Wait! Please don't tell me mother!"]
 ‣ The Drunken Sailor - Brian Peters [SpongeBob and Patrick telling on Krabs]
 ‣ Beautiful Moonlit Night - Carl Maria Von Weber, George Wilson [Mama Krabs faints]
 ‣ Hawaiian Link (a) - Richard Myhill [painting Mama Krabs' house]
 ‣ Oyster Girls - Robert Alexander White [ending]

Reception
Trivia
Timeline
Timecards
none
Cultural References
Errors
External links