Unofficial Name

This page contains information on a subject that does not yet have an official name. Once an official name is given to the subject or character, this template can be removed.
| | |
| --- | --- |
| | "I can't hear you! It's too dark in here!" |
Character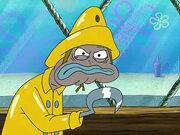 The Sailor is a man thought to be a dangerous sailor, who is actually a harmless man needing to use the Krusty Krab Bathroom. He appears in "Sandy, SpongeBob, and the Worm."
Appearance
He is short, with a yellow raincoat, and a shiny hook for one of his hands.
| | |
| --- | --- |
| | "We paid ten dollars for this?" |