"We're not getting paid to clean stuff!"

This article is in need of cleanup in order to comply with Encyclopedia SpongeBobia's Manual of Style. Please help this Wiki by making this article clean and tidy!
Please remove this message when finished.
| | |
| --- | --- |
| | "I can't hear you! It's too dark in here!" |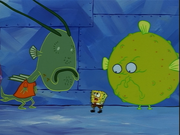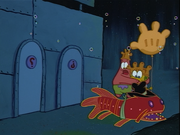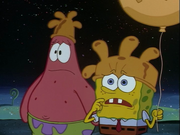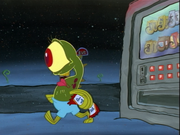 Rock Bottomites are the inhabitants of the town of Rock Bottom. They are based on real life, Deep-Sea creatures, and are just as strange as they sound. They have a different language, though the only difference is that they make noises with their tongue (raspberries) in between sentences. They appeared in the episode "Rock Bottom" and the Employee of the Month video game.
The Creatures
A Gulper Eel
A Strange Orange Creature
The Creature's 3 Children
A Donkey-like Shark
A Serpent
The Information Creature
A Large Eight Eyed Beast
Gargling sounding Fish
An ugly sea horse
A Green Puffer Fish
Many other unusual looking Creatures
Trivia