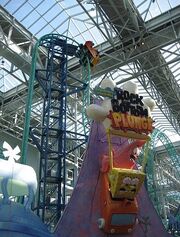 Rock Bottom Plunge
is a roller coaster which opened on 15 March 2008. It was built by the German amusement rides manufacturer
Gerstlauer
and is located at the indoor theme park
Nickelodeon Universe
in the
Mall of America
in Bloomington, Minnesota. It is one of the first rides at
Nickelodeon Universe
and the first roller coaster with complete
SpongeBob
theming.
Appearance
You first see SpongeBob and Patrick on a rollar coaster car with a sign that says SpongeBob SquarePants Rock Bottom Plunge. There are poles to form lines. Then there is a bus stop sign by the operators area. After the ride there is a picture booth for people to buy a picture of them on the ride.
Description
The ride starts off with the 90-degree lift up 67 feet. Then, the ride drops 97 degrees, following a loop. After the loop a camera takes a picture. The ride then proceeds into a horseshoe that goes into the inline twist. After a turn into the mid-course block brakes, the ride then goes down another drop, followed by another turn into a helix before reaching the block brakes at the end.
Facts
The ride is approximately 1500 feet long.
The ride is based on the episode Rock Bottom.
It is currently the shortest of all of the Euro-Fighters.