Character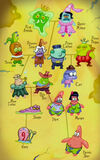 Prince Callous was the great-granduncle of Patrick Star, Gary the Snail, and Sam Star.
Description
He seems to be some kind of dolphin. He is light turquoise. His scleras were dark green with black pupils. He wore a light blue shirt, white belt, gold belt buckle, dark blue pants, and a round, blue hat.
Biography
He was one of two children, and only son, of King Amoeba and Queen Mildew. When he was an adult, he married Prince Dingus. Either he or Prince Dingus had, with a woman, Carl.
History
He only appears in "Rule of Dumb" on the family tree.
Family
Ad blocker interference detected!
Wikia is a free-to-use site that makes money from advertising. We have a modified experience for viewers using ad blockers

Wikia is not accessible if you've made further modifications. Remove the custom ad blocker rule(s) and the page will load as expected.