Prawn
Talk

0
5,648pages on
this wiki
Character
'
Prawn is a boss you fight in the Mermalair during the video game Battle for Bikini Bottom. According to the game, Prawn put all of Mermaid Man's red clothes with his white clothes, making his clothes pink.
Looks
Prawn is a long blue shrimp with a moustache, a big nose, black tuxedo, 2 arms and feet, and a tail.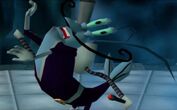 Prawn is the only boss you face in the Mermalair.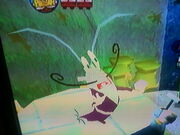 Appearances
Prawn has appeared in two games in the SpongeBob series. He obviously appears in Battle for Bikini Bottom and forces SpongeBob to fight him. In this game, he's the same size of Plankton and carries a large backpack with a large tube on it. He reappears briefly in Truth or Square inside a giant glass jar in the Mermalair. He was located in the exact spot where he was defeated in the previous game. In this game, he is referred as Man Ray or Dr. Shrimp by SpongeBob for unknown reasons, but SpongeBob is fooled and is identified as Prawn.
Trivia
For some reason, Prawn has a french accent.
Prawn gets the name Prawn from a type of shrimp and in fact, Prawn is indeed a shrimp.
It was rumored that Prawn will play an antagonist in SpongeBob SquarePants 2, but was announced to just be mentioned by Plankton (referring to Battle for Bikini Bottom).