Ad blocker interference detected!
Wikia is a free-to-use site that makes money from advertising. We have a modified experience for viewers using ad blockers

Wikia is not accessible if you've made further modifications. Remove the custom ad blocker rule(s) and the page will load as expected.
Video games
This is a list of SpongeBob SquarePants video games, including Nickelodeon crossover video games featuring SpongeBob SquarePants. Including the title, the platform it can be played on, and the release date.
Themed
Cover
Title
Release date

Legend of the Lost Spatula
March 14, 2001

Platforms: Game Boy Color

Operation Krabby Patty
September 24, 2001

Platforms: PC

SuperSponge
November 5, 2001

Platforms: Game Boy Advance, PlayStation

Employee of the Month
September 22, 2002

Platforms: PC

Revenge of the Flying Dutchman
November 21, 2002

Platforms: Game Boy Advance, GameCube, PlayStation 2

Battle for Bikini Bottom
October 21, 2003

Platforms: Game Boy Advance, GameCube, PC, PlayStation 2, Xbox

The SpongeBob SquarePants Movie
October 27, 2004

Platforms: Game Boy Advance, GameCube, PC, PlayStation 2, Xbox

Lights, Camera, Pants!
October 19, 2005

Platforms: Game Boy Advance, GameCube, PC, PlayStation 2, Xbox

The Yellow Avenger
November 7, 2005

Platforms: Nintendo DS, PlayStation Portable

Creature from the Krusty Krab
October 16, 2006

Platforms: Game Boy Advance, GameCube, PC, Nintendo DS, PlayStation 2, Wii

SpongeBob's Atlantis SquarePantis
October 23, 2007

Platforms: Game Boy Advance, Nintendo DS, PlayStation 2, Wii

Underpants Slam!
December 26, 2007

Platforms: Xbox 360 (Xbox Live Arcade)

Drawn to Life: SpongeBob SquarePants Edition
September 15, 2008

Platforms: Nintendo DS

SpongeBob vs. The Big One: Beach Party Cook-Off
February 24, 2009

Platforms: Nintendo DS

SpongeBob's Truth or Square
October 26, 2009

Platforms: Nintendo DS, PlayStation Portable, Wii, Xbox 360

SpongeBob's Truth or Square (arcade game)
October 26, 2009

Platforms: PC

SpongeBob's Boating Bash
March 2, 2010

Platforms: Nintendo DS, Wii

SpongeBob SquigglePants
April 12, 2011

Platforms: Nintendo 3DS, Wii

SpongeBob's Surf and Skate Roadtrip
November 8, 2011

Platforms: Nintendo DS, Xbox 360

Plankton's Robotic Revenge
October 22, 2013

Platforms: Nintendo DS, Nintendo 3DS, Nintendo Wii, Nintendo Wii U, PlayStation 3, Xbox 360

SpongeBob HeroPants
February 3, 2015

Platforms: Nintendo 3DS, PlayStation Vita, Xbox 360
Crossovers
Cover
Title
Release date

Nicktoons Racing
October 31, 2000

Platforms: Game Boy Advance, Game Boy Color, PC, PlayStation

Nickelodeon Party Blast
October 30, 2002

Platforms: GameCube, PC, Xbox

Nickelodeon Toon Twister 3-D
October 15, 2003

Platforms: PC

Nicktoons Basketball
September 11, 2004

Platforms: PC

Nicktoons Freeze Frame Frenzy
September 20, 2004

Platforms: Game Boy Advance

Nicktoons Movin'
October 21, 2004

Platforms: PlayStation 2

Nicktoons Unite!
October 26, 2005

Platforms: Game Boy Advance, GameCube, Nintendo DS, PlayStation 2

Nicktoons Winners Cup Racing
February 15, 2006

Platforms: PC

Nicktoons: Battle for Volcano Island
October 24, 2006

Platforms: Game Boy Advance, GameCube, Nintendo DS, PlayStation 2

Nicktoons: Attack of the Toybots
October 23, 2007

Platforms: Game Boy Advance, Nintendo DS, PlayStation 2, Wii

SpongeBob SquarePants featuring Nicktoons: Globs of Doom
October 20, 2008

Platforms: Nintendo DS, PlayStation 2, Wii

Nicktoons MLB
September 13, 2011

Platforms: Nintendo 3DS, Nintendo DS, Wii, Kinect for Xbox 360
Educational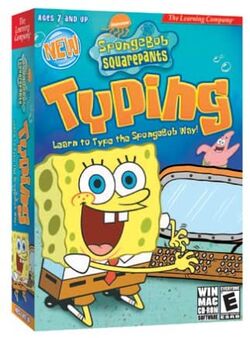 Other
SpongeBob SquarePants Plug 'n Play (TV Game)
SpongeBob SquarePants: The Fry Cook Games (TV Game)
Bikini Bottom 500 (TV Game)
Game Key (TV Game)
Game Key 2 (TV Game)
The Burger Mess (TV Game)
Dilly Dabbler (TV Game)
Jellyfish Dodge (TV Game)
Nicktoons Nitro (Arcade)
SpongeBob 3D Obstacle Odyssey (PC)
SpongeBob Obstacle Odyssey 2: Time Trouble (PC)
Cell Phone games
SpongeBob Darts
SpongeBob Bowling
SpongeBob SquarePants: The Movie
Smartphone games
Jellyfish Jam
Magic Conch
Talking SpongeBob
Board and Card games
(card game) Uno SpongeBob Edition

SpongeBob SquarePants
SpongeBob SquarePants: Special Edition
SpongeBob SquarePants: Lost in Time

The Game of Life Bikini Bottom SpongeBob SquarePants Edition
Ants in the Pants SpongeBob Edition
Operation SpongeBob Edition
Connect Four SpongeBob Edition
Sorry! SpongeBob SquarePants Edition
Cranium SpongeBob SquarePants Edition
SpongeBob SquarePants: Memory Game
SpongeBob SquarePants Game

Great Jellyfish Escape
The Race to the Krusty Krab

Guess Who? SpongeBob SquarePants Edition
Yahtzee Jr. SpongeBob SquarePants Edition
Trouble SpongeBob SquarePants Edition
See also