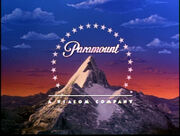 Paramount Pictures is a Viacom American film and television production/distribution company that distributes SpongeBob SquarePants as well as the first movie, the second movie and other Nickelodeon shows.
Located at 5555 Melrose Avenue in Hollywood, founded in 1912 and currently owned by media conglomerate Viacom, it is America's oldest existing film studio, and the last major film studio still headquartered in the Hollywood district of Los Angeles. Paramount is consistently ranked as one of the largest (top-grossing) movie studios.
Paramount Pictures is a member of the Motion Picture Association of America (MPAA).
Paramount currently co-owns the Marvel movies with the Walt Disney Company.
Gallery
Logos
Trivia
Ad blocker interference detected!
Wikia is a free-to-use site that makes money from advertising. We have a modified experience for viewers using ad blockers

Wikia is not accessible if you've made further modifications. Remove the custom ad blocker rule(s) and the page will load as expected.