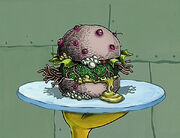 The Nasty Patty is a very disgusting alteration of a Krabby Patty, which Mr. Krabs and SpongeBob made in the episode of the same name to get back at the Health Inspector, thinking he was an impostor. Before the health inspector could take a bite out of it, he choked on a fly and tripped on condiments, smashing his head on the table and knocking him out. They then flew out of his mouth. Seeing his unconscious body, SpongeBob and Mr. Krabs thought they had killed him. Upon seeing this, they attempt to bury him.
Recipe
The Nasty Patty was made with the following ingredients:
Regular Krabby Patty ingredients
Volcano Sauce
Seahorse Radish, the "gnarliest stuff in the ocean" according to SpongeBob.
Toenail Clippings
It was dropped into the toilet
Dried with old gym socks (after being dropped in the toilet)
The Nasty Pasty is also shown in the video game called: Employee of the Month.
| | |
| --- | --- |
| | "We paid ten dollars for this?" |