"Mrs. Puff, You're Fired" is a SpongeBob SquarePants episode from season four. In this episode, Mrs. Puff gets fired and is replaced by a stricter teacher.
Characters
Synopsis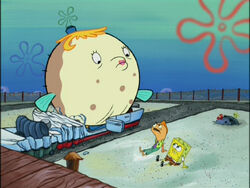 At Mrs. Puff's Boating School, Mr. Fitz, the superintendent, is talking to Mrs. Puff about renewing her teaching certificate, but then informs her of the high record of failing students. However, SpongeBob is the only student who has ever failed her class, but has done so 1,258,056 times. Mrs. Puff is told to show Mr. Fitz everything she has taught SpongeBob, and within seconds, he fails yet another driving test by bashing in a boat. Mr. Fitz fires Mrs. Puff (to her delight since she dislikes SpongeBob), and a new boating instructor named Sergeant Roderick (most likely a shark) comes in and takes over the school.
Sergeant Roderick is a viciously cruel drill instructor, who immediately throws out one student for talking and another for eating. All the other students run away, except for SpongeBob, who is now his only student. The new boating instructor has set up a difficult course, which he trains SpongeBob to crawl, walk, run, and eventually drive through while blindfolded. Surprisingly, he masters this.
When the time of his final exam, which Mr. Fitz personally comes to watch, SpongeBob realizes that he can only drive while blindfolded, and proceeds to take the exam with the same disastrous results. Roderick nearly dies attempting to stop his boat from destroying the city, and Mr. Fitz realizes that SpongeBob is "unteachable" and rehires Mrs. Puff.
The next day, SpongeBob goes to Mrs. Puff's class and gives her a "welcome back" card, then proceeding to apologize for his destruction. Though Mrs. Puff tearfully tells him that she got her teaching degree back, and SpongeBob's file was destroyed in the fire, so it was as if he never failed school. SpongeBob leaves promising it won't take him a "million times" to pass school, leaving a devastated Mrs. Puff to cry.
Production
Music
( ‣ ) Associated production music

( • ) Original music

( ◦ ) SpongeBob music

 ‣ Horlepiep - Jan Rap [title card]
 ‣ Furtive Footsteps - Paddy Kingsland [opening]
 ‣ Dramatic Impact 1 - Ivor Slaney [SpongeBob failed 1,258,056 times]
 ‣ Furtive Footsteps - Paddy Kingsland ["You don't understand. SpongeBob is unteachable."]
 ‣ Earl's Revenge - Sage Guyton, Jeremy Wakefield [SpongeBob appears]
 ‣ The Achterhoek Dances - Jan Rap [driving test begins]
 ‣ Vibe Q Sting - Nicolas Carr ["Start the engine?"]
 ‣ Evil Mind 8 - Dick de Benedictis ["What do I do now?"]
 ‣ Steel Sting (a) - Jeremy Wakefield [Mrs. Puff inflates]
 ‣ Hawaiian Cocktail - Richard Myhill [Mrs. Puff fired]
 ‣ Moloka'i Nui (a) - Kapono Beamer [Mrs. Puff laughs]
 ‣ King Kong Coming - Gregor F. Narholz [loud footsteps]
 ‣ Arnold is Back 1 - Gregor F. Narholz [new driving instructor]
 ‣ Drummers and Fifers - Roger Roger ["No one's ever failed my class... that's lived through it."]
 ‣ Dramatic Impact 2 - Ivor Slaney [instructor throws student out]
 ‣ Finger of Fear - Fredric Bayco ["Would anyone care for a bon-bon?"]
 ‣ Search Party 3 [#52] - Harry Bluestone, Emil Cadkin [student eats bon-bon]
 ‣ Dramatic Cue (a) - Ronald Hanmer ["No eating in my classroom!"]
 ‣ Dramatic Cue (e) - Ronald Hanmer ["Looks like you're the man... sponge."]
 ‣ Deadline - Sam Spence [obstacle course]
 ‣ Pell-Mell - Sam Spence [SpongeBob crawling]
 ‣ Astronauts March - Sam Spence ["I'm ashamed of you, cadet."]
 ‣ Big Ed's March - Sam Spence [training montage]
 ‣ ? ["Every good boater needs to know his vehicle inside and out."]
 ‣ Lap Steel - Nicolas Carr [boat taken apart]
 ‣ Steel Sting - Jeremy Wakefield ["I might need a couple of minutes."]
 ‣ Tympup (a) - Sammy Burdson, John Charles Fiddy ["Jumpin' jellyfish!"]
 ‣ Proud Fanfare - David Farnon [rocket]
 ‣ Running Bass - Sam Spence ["Watch for pedestrians. Check mirrors."]
 ‣ Dangerous (c) - Mladen Franko [SpongeBob crashes into pedestrians]
 ‣ Hawaiian Cocktail - Richard Myhill ["Why don't you ask the shattered remains of this pedestrian... HOW YOU DID?!?!"]
 ‣ Up She Rises - Sam Spence [SpongeBob blindfolded]
 ‣ Bonnie Blue Gal - Sam Spence [SpongeBob's final exam]
 ‣ Grass Skirt Chase - Sage Guyton, Jeremy Wakefield ["Drive, boy! DRIVE!"]
 ‣ Sponge Monger - Sage Guyton, Jeremy Wakefield [SpongeBob driving wildly]
 ‣ Satin Slipper - Raymond Beaver [someone making a cake]
 ‣ Sponge Monger - Sage Guyton, Jeremy Wakefield [Car takes the cake ahead.]
 ‣ Sleepy Time - Dick Stephen Walter [Mrs. Puff painting]
 ‣ Sponge Monger - Sage Guyton, Jeremy Wakefield [SpongeBob destroys the city]
 ‣ Steel Licks (d) - Jeremy Wakefield [Mrs. Puff hired again]
 ‣ The Achterhoek Dances - Jan Rap [ending]

Release
Reception
"Mrs. Puff, You're Fired" was ranked #82 during the Best Day Ever event on November 9–10, 2006.
Trivia
Mrs. Puff can be seen painting when she's not teaching.

She also mentions in the episode "The Krabby Kronicle," that she used to watch daytime television before she became a teacher.

This is another instance in which SpongeBob proves he can drive competently. Previously, in "Boating School," he gets instructions from Patrick's walkie-talkie, and is just about to pass the test. However, when Mrs. Puff tells him his method is a form of cheating, SpongeBob drives out of control and fails once again.
Even though the new teacher's name isn't said in this episode, his name is revealed in the credits as "Sergeant Sam Roderick."
The title card is similar to that of "Ditchin'."

The only difference is that this one is pink while the other one was dark orange.

This is the first episode to have "You're Fired" in the title. The second is "SpongeBob You're Fired."
This is the second episode in which SpongeBob says "Hey, a nickel!" The first is "Krab Borg."
This episode includes the footage from "No Weenies Allowed" where SpongeBob was out of the water and back in again.
This episode premiered six years after the premiere of "Fools in April" and "Neptune's Spatula."
SpongeBob would have to unscrew more than two little bolts to remove the brake. Even then, after removing all the gears, springs, and other mechanisms, the brakes would still be somewhat operable with the emergency/parking brake.
In the Polish dub, the episode's title is "Pani Puff wylatuje z pracy" ("Mrs. Puff is Fired from the Job").
It is unexplained why Mrs. Puff didn't just say that she didn't want to be rehired.
The black paint used to take Mrs. Puff's name from the boating school sign can be seen dripping briefly before the next class begins.
Cultural references
Sergeant Rodrick is clearly based on Gunnery Sergeant Hartman from the 1987 film Full Metal Jacket.
Errors
It is unknown how SpongeBob was able to park the boat since he took out the brake.

The boat probably ran out of fuel, or he took his foot off the gas pedal.

It is impossible for SpongeBob to have failed his boating test 1,258,056 times as even if he had taken it once a day every day, it would take him almost 3.5 millennia to do so.

This could have just been an exaggeration.

It is uncertain why SpongeBob guides himself better with a blindfold, rather than having both eyes open.

In addition, SpongeBob could have simply closed his eyes rather than wearing a blindfold.
Ad blocker interference detected!
Wikia is a free-to-use site that makes money from advertising. We have a modified experience for viewers using ad blockers

Wikia is not accessible if you've made further modifications. Remove the custom ad blocker rule(s) and the page will load as expected.