Object
Modern Dentistry is a magazine that appears in the episode "The Whole Tooth."
Description
The cover of the magazine features an image of an old fish smiling with rather large, uncleaned teeth. The magazine itself is swampy brown in color. The title is written at the top with the date it was published, "Aug. 1782," written on the left side, and "Weekly" written on the right side.
Role in episode
The magazine is seen sitting on a table in the dentist office during SpongeBob and Patrick's visit. Patrick is getting nervous and he picks up the copy of Modern Dentistry. However, the fish on the cover frightens Patrick and he tosses it back onto the table. The magazine appears to not been read in a long time, as Patrick blew away large amounts of dust off it.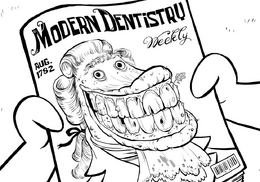 Trivia
The fish on the cover is shown wearing clothes and a wig in a similar style to various men during the 1700s, most notably like Mozart's hair and clothes.
Ad blocker interference detected!
Wikia is a free-to-use site that makes money from advertising. We have a modified experience for viewers using ad blockers

Wikia is not accessible if you've made further modifications. Remove the custom ad blocker rule(s) and the page will load as expected.