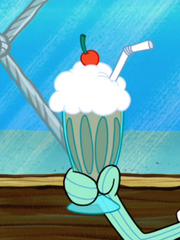 A
milkshake
is dessert served at the
Krusty Krab
in the episodes "
Pickles
", "
Mermaid Man and Barnacle Boy IV
" and "
License to Milkshake
". It makes it's major appearance in "License to Milkshake" to date.
Ingredients
Ice Cream (SpongeBob uses Vanilla, Chocolate, and Strawberry)
Whipped Cream
A Cherry 
Milkshake Drinking Episodes
Trivia
Milkshakes also appear for the title card for "License to Milkshake."
SpongeBob made a total of five milkshakes in License to Milkshake. Three were frozen, one was a Krabby Patty,and one was a perfect one.
There have been four episodes that showed milkshakes.
The KK milkshakes are called "Double Dip Milkshakes".