Hello, SpongeBob EditPants, and welcome to the SpongeBob SquarePants Wikia! Thank you for your contributions. We hope you like this place and decide to stay. Here are some pages that you might find helpful:
I hope you enjoy editing here and being a Wikian! Please sign your messages on discussion pages using four tildes ~~~~; this will automatically insert your username and the date. If you need help, check out forums, or ask an administrator. Also I'd like to tell you that I have taken the liberty of creating a template for you to use on your userpage. You don't have to keep it like that, but it should help you get started. Again, welcome and happy editing!
Again, Welcome!

Hi!!
I liked your photo: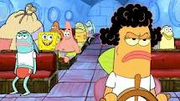 I remember that episode it was pretty funny when Spongebob kept bugging the bus driver :)
--Anubis7
Thanks! How nice of you to notice! I've even put on my own user page! SpongeBob EditPants 23:59, April 1, 2012 (UTC)
Ad blocker interference detected!
Wikia is a free-to-use site that makes money from advertising. We have a modified experience for viewers using ad blockers

Wikia is not accessible if you've made further modifications. Remove the custom ad blocker rule(s) and the page will load as expected.